Ludwig Ahgren breaks Twitch subscription record after 31-day stint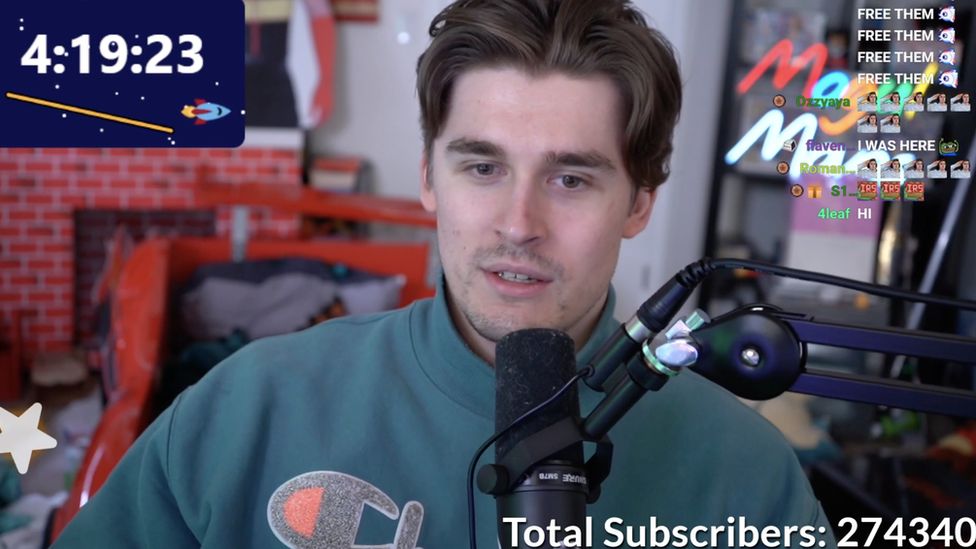 Viewers watched him eat, game, and even sleep in a bed that looked like a red sports car.
After streaming on Twitch non-stop for 31 consecutive days, Ludwig Ahgren has broken the website's record for having the most paying subscribers.
At the time of writing, he had 282,847 and the number is still climbing.
The previous record was set in 2018, when Tyler "Ninja" Blevins amassed 269,154 subscribers.
Ninja tweeted his congratulations to 25-year-old Ludwig, saying "records are meant to be broken".
Skip twitter post by Ninja
Records are meant to be broken, I would be lying if I said wasn't a little sad but congrats @LudwigAhgren on holding the new sub record on twitch 🤩

— Ninja (@Ninja) April 13, 2021
The BBC is not responsible for the content of external sites.
End of twitter post by Ninja
Video games website Kotaku described the accomplishment as a "heck of a record". The third-highest number of subscriptions peaked at 114,387 - a long way behind Ludwig and Ninja's records.
Twitch offers three tiers of paid subscriptions - and a portion goes to the content creators themselves. It is not yet clear how much money Ludwig has made.
The achievement will have helped raise both his profile and that of the Amazon-owned video-streaming platform.
At the start of the "subathon" (short for subscription marathon) every new subscription added 10 seconds to Ludwig's stream.
One month later and possibly with no end in sight, he stopped streaming on Tuesday evening.
Skip twitter post 2 by ludwig
Since I started streaming
•Prince Phillip died
•The Suez Canal got blocked and unblocked
•David Dobrik made TWO apology videos
•Jesus of Nazareth died and then rose from the dead

It all ends April 13 9 PM PT

— ludwig (@LudwigAhgren) April 11, 2021
The BBC is not responsible for the content of external sites.
End of twitter post 2 by ludwig
In a tweet, Ludwig put into perspective just how long a month can be by highlighting some of the big news stories that had happened during his stint.
Ludwig or his moderators would play videos or movies if he was showering or using the bathroom.
On his final day of streaming, he donated $5 (£3.60) from every new subscription to charity. It is not yet known how much he had raised.
According to USA Today, Ludwig joked he would be "swimming in" cash, and had said: "Let's try to donate as much money as possible today."
But the subscription record is not the only thing Ludwig broke.
He and his friends took turns destroying the plastic sports car bed frame in the final hours of the livestream.
They used a baseball bat and sledgehammer before eventually tossing the pieces over the edge of his porch.
Cody Godwin is a reporter based in San Francisco. For more news, follow her on Twitter at @MsCodyGodwin