US imposes sanctions on Russia over cyber-attacks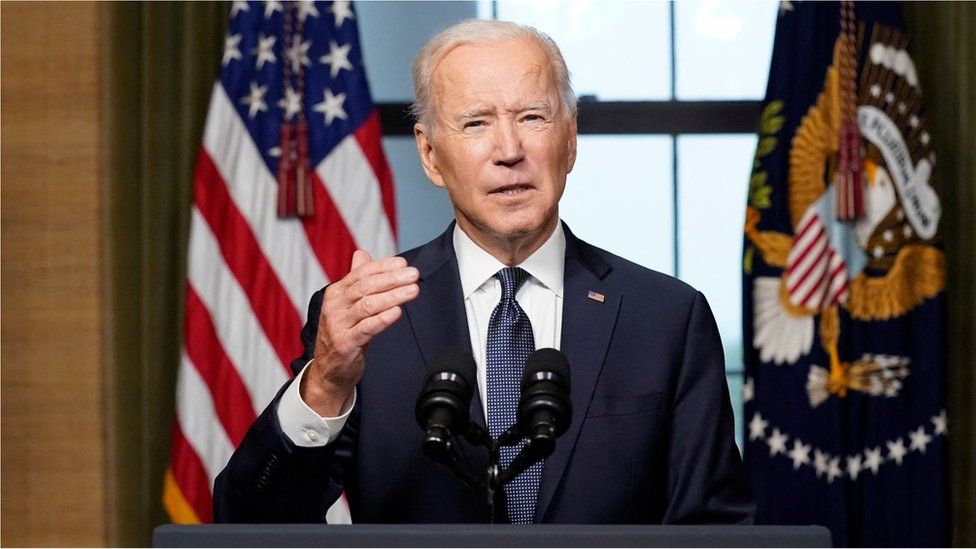 The US has announced sanctions against Russia in response to what it says are cyber-attacks and other hostile acts.
The measures, which target dozens of Russian entities and officials, aim to deter "Russia's harmful foreign activities", the White House said.
The statement says Russian intelligence was behind last year's massive "SolarWinds" hack, and accuses Moscow of interference in the 2020 election.
Russia denies all the allegations and says it will respond in kind.
The sanctions announced on Thursday are detailed in an executive order signed by President Joe Biden. They come at a tense time for relations between the two countries.
In a call with Russian President Vladimir Putin on Tuesday, Mr Biden vowed to defend US national interests "firmly", while proposing a meeting with Mr Putin to find areas where the two countries could work together.
What did the Biden administration say?
On Thursday, Mr Biden described his decision to impose sanctions on Russia as "proportionate".
"I was clear with President Putin that we could have gone further, but I chose not to do so," Mr Biden told reporters. "The United States is not looking to kick off a cycle of escalation and conflict with Russia."
He added that the way forwards is through "thoughtful dialogue and diplomatic process".
A statement from the White House said the new sanctions show the US "will impose costs in a strategic and economically impactful manner on Russia" if it continues its "destabilising international action".
It reaffirms the administration's view that the Russian government is behind cyber-attacks and has been trying to "undermine the conduct of free and fair democratic elections" in the US and allied nations.
It specifically blames Russia's foreign intelligence service, the SVR, for the SolarWinds attack, which gave cyber-criminals potential access to 18,000 government and private computer networks.
The latest sanctions target 32 entities and officials accused of trying to influence the 2020 US presidential election "and other acts of disinformation".
Ten diplomats are being expelled. The executive order also bars US financial institutions from purchasing rouble-denominated bonds from June.
Biden treads a careful line
The Biden administration is trying to tread a careful line. US officials want to impose costs for a range of unacceptable behaviour from Moscow and deter further acts. They also want to signal they are going to take a tougher line than the Trump administration. But they also say they do not want to see a downward spiral in relations. The message they have is that their response is "resolute but proportionate".
The SolarWinds cyber-espionage campaign was a primary concern. To maximise the impact they have combined response to this with sanctions over election interference and other issues.
Diplomatic expulsions and sanctions against individuals will largely be shrugged off by Moscow as expected. The financial sanctions regarding Russian sovereign debt are a step-up though.
The US has also published a huge amount of detail about Russian intelligence activities ranging from front companies involved in spreading disinformation to Russian tech companies allegedly supporting its intelligence services.
The hope will be that this also makes it harder for the Russians to operate. But past experience suggests all of this is unlikely to deter the Kremlin.
The White House meanwhile acknowledged there was little evidence to support claims that Russia had offered bounties to Taliban militants for killing American soldiers.
The intelligence assessment was first reported last June by the New York Times, and was cited by Mr Biden on the campaign trial last year to accuse then-President Donald Trump of not standing up to Russia. Mr Trump at the time called it "fake news".
On Thursday, White House press secretary Jen Psaki told reporters the intelligence community had determined it had only "low to moderate confidence" in the claims, which are said to have come from interrogations of Afghan detainees.
What is the reaction from Moscow?
Shortly after the sanctions were announced, Russia's foreign ministry called them "hostile steps which dangerously raise the temperature of confrontation".
"Such aggressive conduct will of course get a decisive response," the statement added.
The US ambassador has been called to the foreign ministry.
The EU, Nato and the UK have all issued statements in support of the US measures.
In his first foreign policy speech in February, Mr Biden vowed to stand up to Russia. "The days of the United States rolling over in the face of Russia's aggressive actions… are over," he said.
The Obama-Biden administration was accused of standing by while Russia annexed Crimea in 2014.
But in recent days Mr Biden has warned the Kremlin against aggressive actions in Ukraine. Russia is beefing up its military presence in the border area.
Mr Biden's predecessor rarely criticised Mr Putin. In a report last month US intelligence agencies concluded the Russian president had probably directed online efforts to help Mr Trump win a second term as US president.
And yet, according to the Carnegie Moscow Center, Mr Trump imposed a record total of more than 40 rounds of sanctions on Moscow. In 2018 he expelled 60 Russian diplomats from the US.
You might also be interested in: