NHS app ready to become vaccine passport next week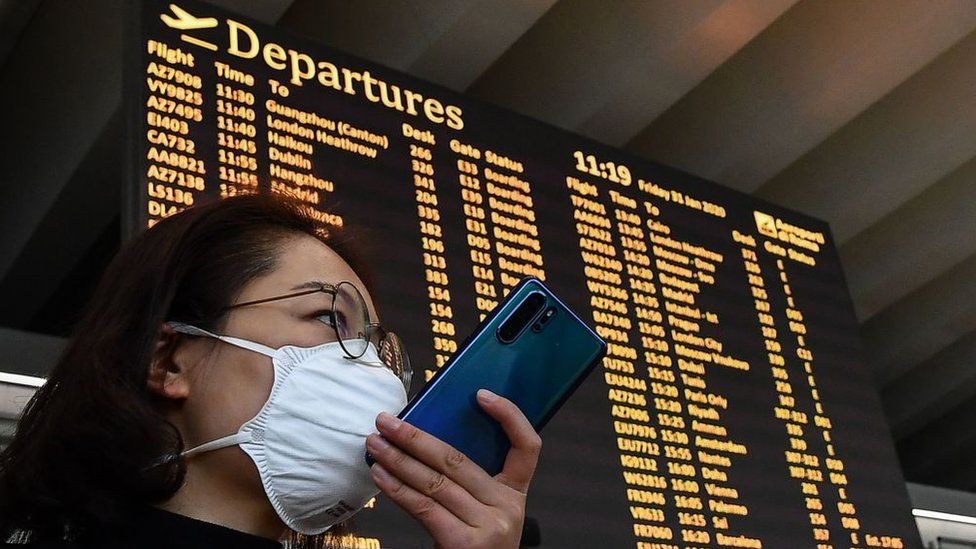 England's NHS app will be available to use as a vaccine passport from Monday, the government has said - but only for those who have had both doses of the jab.
A paper version will also be available - by calling 119 but not through a GP.
Both will be available from Monday, 17 May, when the ban on foreign travel is eased.
The NHS app is separate to the NHS Covid-19 app, which is used for contact tracing.
People can already use the NHS app to:
request repeat prescriptions
arrange appointments to see their doctor
view medical records
It can also show vaccine statuses, including for coronavirus, but currently this feature must be enabled by a GP before it appears on the app.
The new update will contain a separate feature to display coronavirus vaccine records, so the government said there should be no need to contact GPs.
It advised people to register to use the app at least two weeks before travelling.
A paper letter can be requested only at least five days after a second vaccine dose and can take five days to arrive.
"There are not many countries that currently accept proof of vaccination," the government advice warns.
"So for the time being, most people will still need to follow other rules when travelling abroad – like getting a negative pre-departure test."
But not all of these destinations allow UK tourists.
For example, travel to mainland Portugal and the Azores is currently for essential purposes only.
The list will be reviewed every three weeks.
Countries can be added or removed at short notice.
It's finally becoming clearer exactly how the government plans to use the NHS app as a vaccine passport.
It had been assumed it depended on getting GPs to share a patient's data with the app. I'd been on the phone to my GP surgery because neither of my two jabs was showing up in the app.
But this morning a Department of Health spokeswoman told me that NHS X - the health service digital division - has designed an update to the app which doesn't depend on GP records.
The update won't go live until May 17th and will provide a new tab displaying your vaccine record, the idea being that this is all you need to show rather than any other sensitive data being visible.
What's not clear however is whether this solution will be acceptable to foreign airlines or border police. But there is one message the government is keen to get out - don't do what I did and ring your GP.
Travellers also need to take coronavirus tests before returning to England and after arrival.
Some countries may also require tests to be taken upon entry to the holiday destination.
This would allow anyone vaccinated against Covid or who has tested negative or recently recovered from the virus to travel within the region.
Several companies have been working on apps to make travel easier, including trade body the International Air Transport Association, who are piloting 'Travel Pass'.
It said it has been in discussions with government to ensure the pass can read data from the NHS App.
"We're keen to go further and faster now that the Secretary of State has confirmed that travellers will have access to their covid vaccination status by 17 May," a spokesperson added. "Globally there are now 20+ countries that are either easing testing or quarantine requirements for vaccinated passengers so the UK needs to move quickly if it does not want to fall behind globally in supporting its citizens' ability to freely travel."