Tinder tweak urges people to think before sending abuse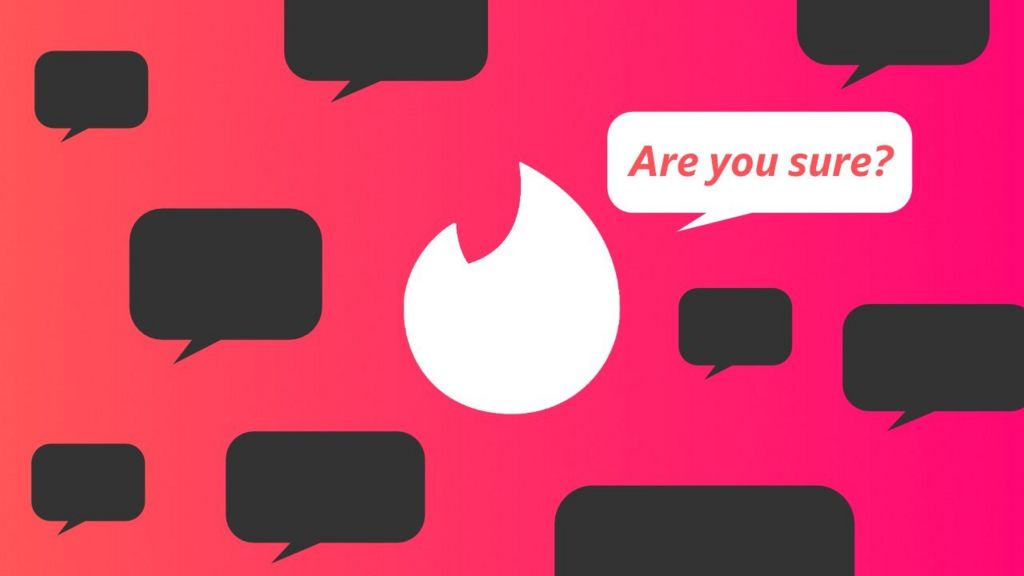 Dating app Tinder will detect abusive messages and ask the writer to stop and think before sending them, in an effort to tackle harassment.
The automated system will learn to detect "harmful language" from messages reported by users.
Tinder said the "Are you sure?" system had "reduced inappropriate language in messages sent" in trials by about 10%.
Instagram and Twitter already use similar systems to detect abusive comments and tweets.
Earlier in May, Twitter said it would start asking people to review their tweets before posting if they contained "harmful or offensive" language.
Tinder already asks people receiving messages in which it has detected an abusive phrase: "Does this bother you?"
But the new system will ask the writer to reconsider before the message is sent.
The dating app said members who saw the warning during its trial were "less likely to be reported for inappropriate messages over the next month".
Taking steps to tackle toxicity
If you thought social media could be toxic, wait until you see what happens on dating apps.
Social media is full of people sharing some of the harassing and sexually explicit messages they have received from strangers on Tinder.
Unbelievably, people sometimes "match" with others just to send them abuse.
Tinder's experiment demonstrated that asking people to stop and think reduced the amount of harassing messages by 10%.
But that means 90% of them were still slipping through the net.
What is it about dating apps that fosters this toxicity?
Perhaps pitting people against one another in an "attractiveness Hunger Games", based on their photographs, is part of the problem.
But that is a lucrative game for Tinder, which charges £116 a year for unlimited swiping of its "top picks" - an algorithmically curated list of the most in-demand members on the app.