Amazon warehouse injuries '80% higher' than competitors, report claims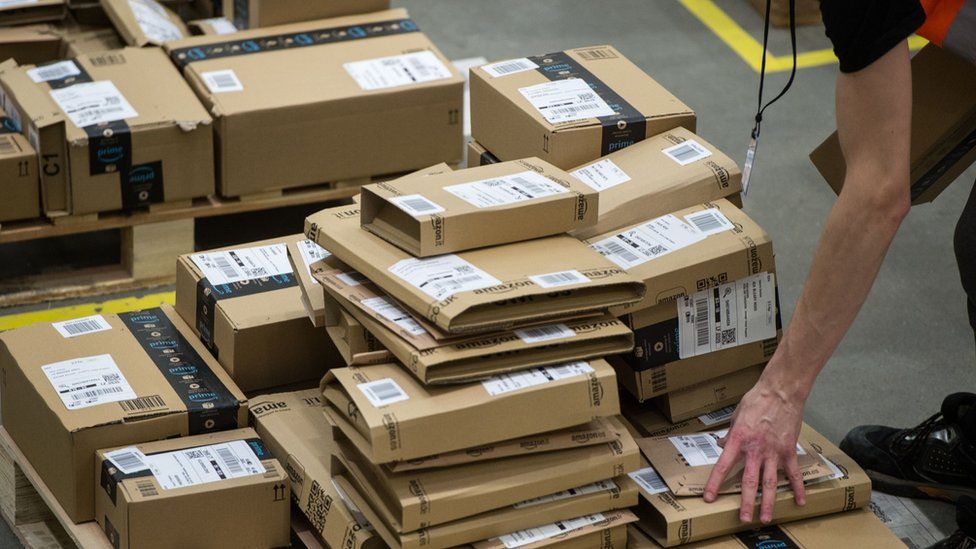 Employees at US Amazon warehouses are injured at a higher rate than those doing similar jobs at other companies' warehouses, a new report has found.
A union-backed study of safety data found Amazon workers had 5.9 serious injuries per 100 people - almost 80% higher than the rest of the industry.
The study's organisers blamed Amazon's "obsession with speed" as a main cause of the problem.
It is the latest in a string of controversies around worker safety.
Earlier this year, the company apologised for falsely denying that its drivers are forced to urinate in plastic bottles. That came alongside a wider string of allegations that employees both on driving routes and in warehouses are under too much time pressure to use bathrooms, which Amazon denies.
It found that "workers at Amazon warehouses are not only injured more frequently than in non-Amazon warehouses, they are also injured more severely".
Workers forced to take time off for injuries were absent for an average of 46.3 days, it said - a week longer than the average across the warehouse industry.
And compared to its largest retail competitor Walmart, Amazon's overall injury rate was more than double, at 6.5 per 100 employees compared with three.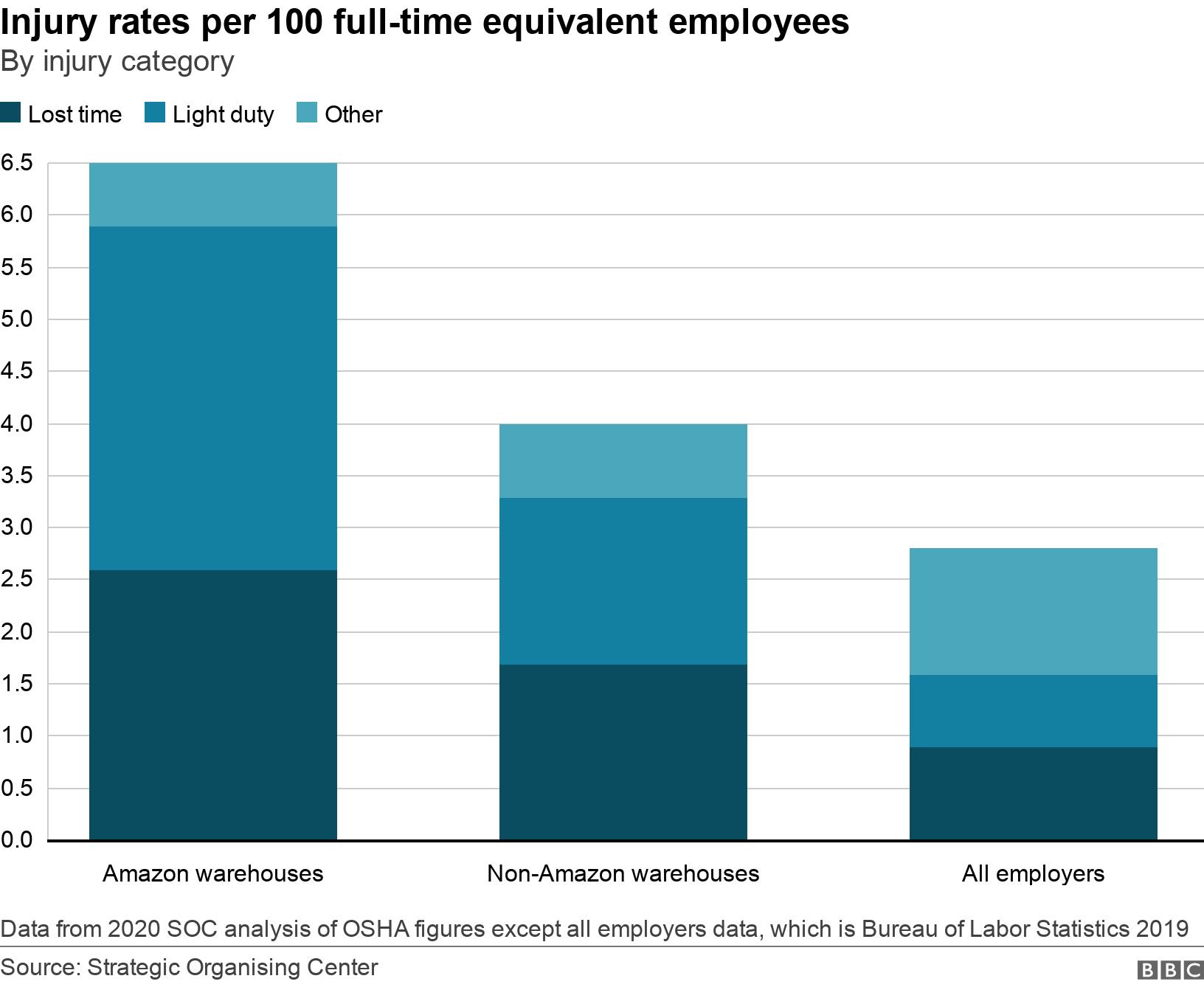 The SOC characterised the report as an "epidemic of workplace injuries".
In a statement, Amazon said it invested more than $1bn (£705.9m) in work place safety last year, growing its safety team to more than 6,200 people.
"While any incident is one too many, we are continuously learning and seeing improvements through ergonomics programs, guided exercises at employees' workstations, mechanical assistance equipment, workstation setup and design, and forklift telematics and guardrails - to name a few," a spokesman said.
He also pointed towards its "WorkingWell" wellbeing programme, something Amazon boss Jeff Bezos highlighted in his recent shareholder letter in which he committed to reducing workplace injuries.
"Just like an athlete who trains for an event, industrial athletes need to prepare their bodies to be able to perform their best at work," it warns.
"Some positions will walk up to 13 miles a day... [others] will have a total of 20,000lb (9,072kg) lifted before they complete their shift," it said.
The pamphlet, from a Tulsa warehouse, also offers tips on health and fitness. It encourages exercise on days off, a good diet to fuel the 400 calories an hour the company expects employees to burn, and tips on buying shoes to fit swollen feet from the active working environment.
Amazon told Motherboard that the pamphlet had been created in error and removed - though the employee who gave it to the publication said it was available on-site for months.
In a separate development for US Amazon employees, the company also said it will stop testing some employees for marijuana use.
"We will no longer include marijuana in our comprehensive drug screening programme for any positions not regulated by the Department of Transportation, and will instead treat it the same as alcohol use," the company said in a blog post.
"Given where state laws are moving across the US, we've changed course," executive Dave Clark wrote - but added that people would still be checked for impairment "after any incident".
To back that stance, Amazon will back federal legislation that would legalise marijuana and expunge past criminal records, he said.