Donald Trump's 'communications' platform permanently taken offline
By Cody Godwin
BBC News, San Francisco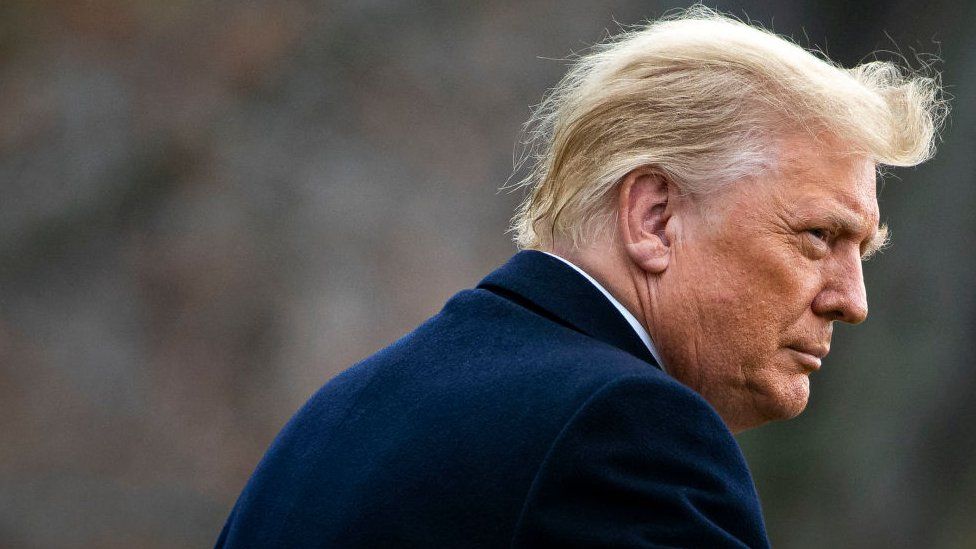 Donald Trump's communications platform has been permanently shut down, his spokesperson told CNBC.
"It was just auxiliary to the broader efforts we have and are working on," senior aide Jason Miller said.
The platform, titled From the Desk of Donald J Trump, launched last month and served as a way for the former president to publish his own content including press releases and videos.
Mr Trump was banned from Facebook and Twitter after the Capitol Hill Riots.
From the Desk of Donald J Trump had a section on the former president's official website, but it has now been removed. Mr Miller confirmed via Twitter that it is a precursor to Mr Trump's return to social media, although it is unclear when or how.
The website - which was often referred to as a blog - had a rolling feed of Mr Trump's various posts and gave visitors the option to "like" the post and share it to Facebook and Twitter.
The link to the website now directs visitors to a page encouraging them to sign up for alerts from Donald Trump.
In March, Mr Miller told Fox News he thinks "we're going to see President Trump returning to social media in probably about two or three months" and "with his own platform".
Some thought From the Desk of Donald J. Trump was the platform he had alluded to, but Mr Miller confirmed in May that it was not, saying: "we'll have additional information coming on that front in the very near future."
The former president was an avid user of social media as a way to communicate directly to his followers.
Since his removal from Facebook, Twitter, Instagram and YouTube, the former president has not been heard from in the same capacity, although this website was the closest he has been to directly communicating with his followers since January.
Mr Trump was an enthusiastic tweeter, often posting throughout the day - and sometimes at night - about an array of topics, including the 2020 election, coronavirus and what he called "fake news" to his nearly 90 million followers.
He has been permanently banned from Twitter.
YouTube has said it will reactivate Mr Trump's account when the threat of "real-world violence" reduces.