Apple employees rally against office working plan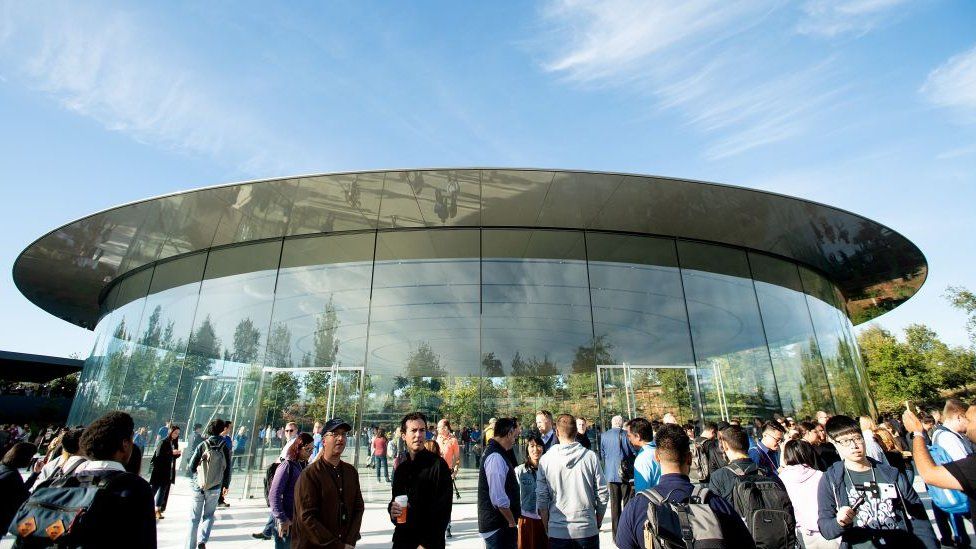 Apple employees have launched a campaign to push back against Tim Cook's plans for a widespread return to the office, according to reports.
It follows an all-staff memo last week in which the Apple boss said workers should be in the office at least three days a week by September.
But staff are demanding more flexibility, according to an internal letter obtained by news site The Verge.
Apple's policy has "already forced some of our colleagues to quit", it said.
"Without the inclusivity that flexibility brings, many of us feel we have to choose between either a combination of our families, our wellbeing, and being empowered to do our best work, or being a part of Apple," the letter said.
"Over the last year we often felt not just unheard, but at times actively ignored," it also reads, accusing management of a "disconnect" with employees on the topic of remote or flexible working.
The three-day per week in-office requirement applies across the board, he said - with teams that need to work in-person requiring a four or five-day week in the office.
In the rebuttal from employees obtained by The Verge, they asked for:
Apple to leave remote working decisions up to individual teams
A company-wide survey on the topic across teams and the whole company
Exit interviews to specifically ask about "employee churn" because of remote work
A plan to accommodate disabilities through both remote and on-site working
Information on the environmental impact of in-person on-site work compared with remote working
But other tech giants have taken a more relaxed approach to the return to work, as pandemic restrictions ease across the world.