Rembrandt's The Night Watch painting restored by AI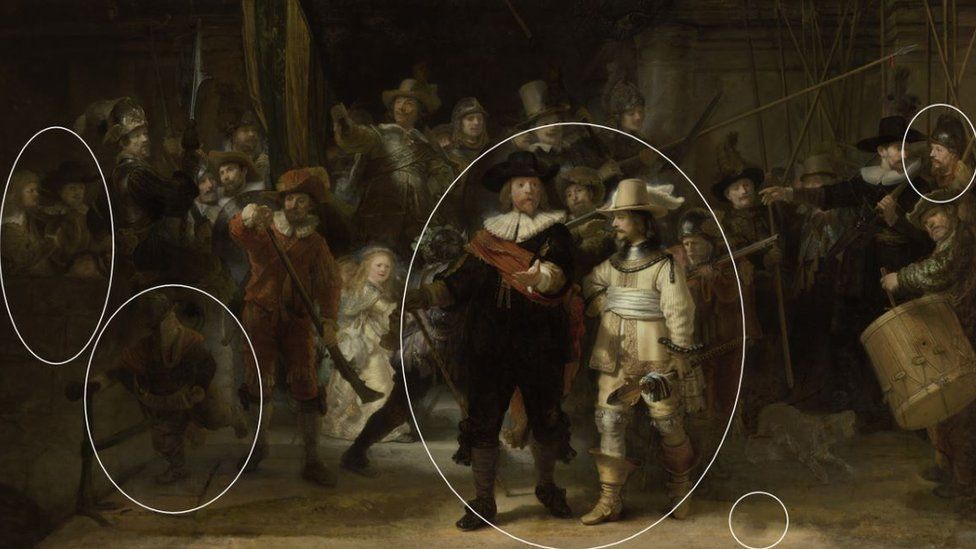 The missing edges of Rembrandt's painting The Night Watch have been restored using artificial intelligence.
The canvas, created in 1642, was trimmed in 1715 to fit between two doors at Amsterdam's city hall.
Since then, 60cm (2ft) from the left, 22cm from the top, 12cm from the bottom and 7cm from the right have been missing.
But computer software has now restored the full painting for the first time in 300 years.
AI works through machine learning, where a computer is trained by processing existing information.
The Rijksmuseum in Amsterdam - where the original painting is displayed - used two images to train the AI. The first was a high-resolution scan of the original, and the second a painted copy - made before the trimming - by Gerrit Lundens, which is displayed in London's National Gallery.
Rather than hiring a painter for the reconstruction, the art was created pixel-by-pixel in Rembrandt's style, using the scanned photos as a reference for the details and colours used in the original.
"Our attempt here is to make a best guess, without the hand of an artist, into what The Night Watch looked like," Robert Erdmann, senior scientist at the Rijksmuseum, said.
The images were then printed and mounted at the sides of the original painting - so visitors can imagine the full canvas, as intended by the artist.
Museum visitors will now be able to see changes including:
Three figures on the left-hand side (two men and a boy)
A complete helmet on the right side of the painting
A clearer view of a boy in the left foreground, running away from the militia
Repositioning of the painting's composition, so its figures are in different places
"Looking at the concept of the composition, all of a sudden it becomes clear how [Rembrandt] - almost as a dance director or a performer - tries to grab our eyes and move the eye through the composition, up to the central piece being the captain, together with his lieutenant," Pieter Roelofs, head of paintings and sculptures at the museum, said.
"So both movement and dynamics gained enormous equality, and that helps us … get a better understanding of the original intentions, both of the artist, and of this painting as a concept."
The original Night Watch was a commission by Amsterdam's civic guard for their clubhouse in Amsterdam.
After trimming it to fit in the city hall years later, the painting now lives at the Rijksmuseum. The restored scans will be displayed for three months as part of a temporary exhibition, or can be viewed on the museum's website.