Instagram launches 'limits' to hide abusive messages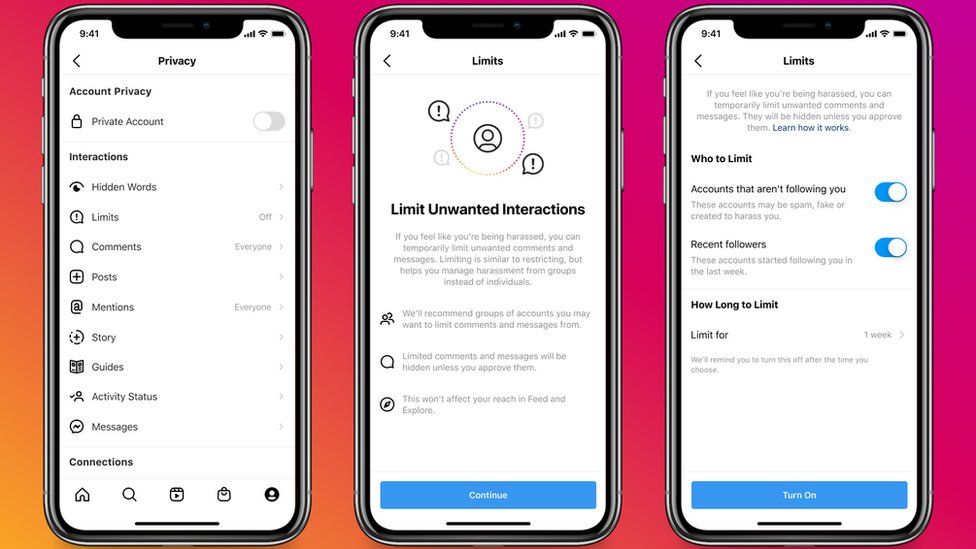 Instagram has announced new features designed to restrict abusive messages during "sudden spikes".
Its new "limits" feature automatically hides comments and messages from people who do not follow - or just started following - users who switch it on.
It was designed to stop abuse from large numbers of people "who simply pile on in the moment", Instagram said.
The company specifically referenced the racist abuse following the men's Euro 2020 football final as one example.
In the wake of England's defeat in a penalty shootout, black players found themselves subjected to a torrent of racist abuse, including on social-media platforms.
Instagram said its new features were designed to protect people from "a sudden rush" of negative attention.
"Creators and public figures sometimes experience sudden spikes of comments and DM [direct-message] requests from people they don't know," it said in in its announcement.
"In many cases, this is an outpouring of support - like if they go viral after winning an Olympic medal.
"But sometimes, it can also mean an influx of unwanted comments or messages."
Instead of requiring well known users to completely disable all comments and messages, the new tool will let anyone effectively mute those who have not been "long-standing followers".
And it could be switched on or off at any time, Instagram said.
The company also announced it was rolling out its previously announced Hidden Words system for everyone worldwide.
Instagram said it had also "expanded" the blocklist of words, hashtags and emojis the system automatically blocked to filter out abusive messages, which individual users can also customise,
And it had strengthened the language of pop-ups when users try to post "a potentially offensive comment", warning their accounts could be deleted for repeat offences.
it had deleted more than 2,000 tweets targeting England's footballers in the wake of the Euro 2020 final
the UK was the country of origin of by far the largest proportion of the racist abuse
of the accounts it had permanently suspended, "99% of their owners were identifiable"
it was testing a tool that "temporarily autoblocks accounts using harmful language"