Tesla opens its chargers to other electric cars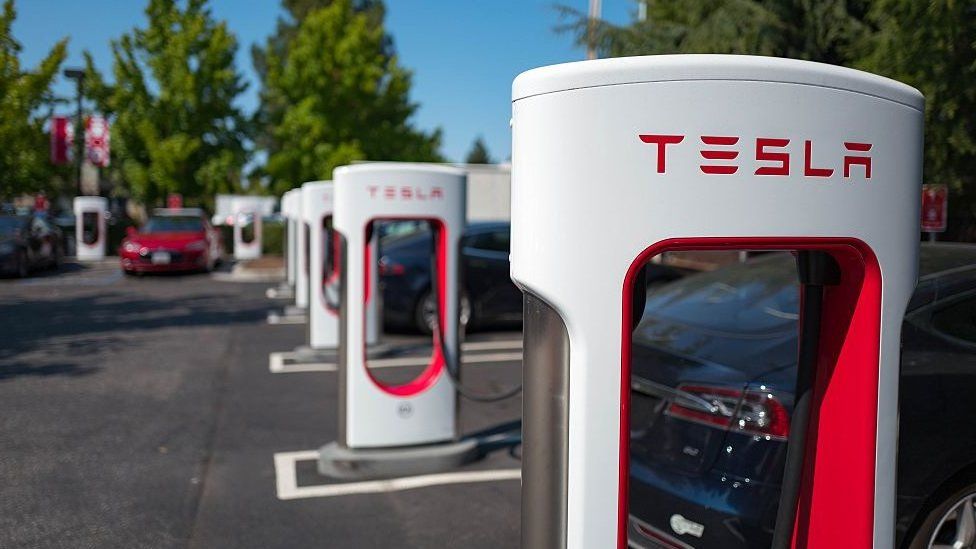 Tesla is opening up its charging networks to other electric cars for the first time.
The company has more than 25,000 "supercharger" locations, making it the largest charging network in the world.
Its pilot scheme will start with 10 locations in the Netherlands as part of the company's push to take electric vehicles mainstream.
The car maker, where Elon Musk is chief executive, hopes to eventually expand the scheme "worldwide".
"It's always been our ambition to open the supercharger network to non-Tesla EVs (electric vehicles), and by doing so, encourage more drivers to go electric," a Tesla spokesman said.
"This move directly supports our mission to accelerate the world's transition to sustainable energy."
The chargers will work with any electric car that features a combined charging system (CCS) port.
Such systems are used by global manufacturers, including BMW, Mercedes-Benz maker Daimler, Ford and the Volkswagen group.
Non-Tesla drivers who want to use one of the company's supercharger stations will need to download its app and create an account.
Users will then be able to search for "non-Tesla" locations. However, there will also be additional costs for those with non-Tesla drivers.
The company sold 241,391 Tesla cars in the third quarter of 2021 which helped it to achieve a market value of $1 trillion (£733bn) this week.
It became the fifth such firm to reach the milestone.
Only Apple, Microsoft, Amazon and Google-owner Alphabet had previously reached that landmark valuation.