YouTube star Logan Paul apologises for CryptoZoo project failure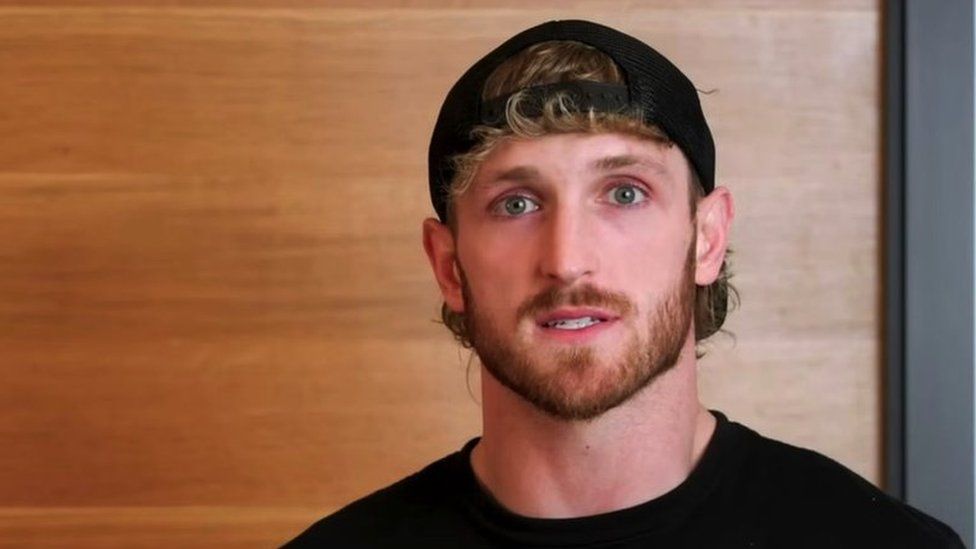 YouTuber Logan Paul has apologised to fans who lost money after investing in his cryptocurrency game, CryptoZoo.
The 27-year-old encouraged people to buy cryptocurrency collectables for what he called a "really fun game that makes you money".
But more than a year after its launch, no game has materialised and Paul has apparently abandoned the project.
Now, in response to another YouTuber's investigation into the business, Paul says he wants to "make this right".
CryptoZoo was launched in 2021 after first being discussed on Paul's podcast Impaulsive.
Paul, who has more than 23 million YouTube subscribers, said he had spent "probably about one million" dollars on developing CryptoZoo, and had a "massive team behind the project".
In a now-deleted description, it was described as "an autonomous ecosystem that allows ZooKeepers to buy, sell, and trade exotic animals and hybrids. CryptoZoo incorporates cryptocurrency and Non Fungible Tokens (NFTs) into a simple, fun game with familiar mechanics".
The project sold images of cartoon eggs as NFTs, with the promise that collectors would be able to hatch them into randomly chosen animal images.
Collectors would then be able to "breed" their animal images to create new species and win coins in a linked cryptocurrency called $ZOO.
In a since-removed project roadmap, many games were promised in 2022 that would incorporate the animal NFT images but no playable features were delivered.
It is not known how many investors CryptoZoo has, but the project's Discord server has about 500 members.
However, after selling millions of dollars worth of NFTs and crypto coins, Paul stopped talking about CrytpoZoo and seemingly abandoned the project.
Paul's team has not responded to the BBC's request for comment.
Last month, cryptocurrency scam investigator Stephen Findeisen, known as Coffeezilla on YouTube, began a three-part video series about CryptoZoo, calling it a "scam".
The American spoke to investors around the world who claimed to have spent hundreds, sometimes thousands of dollars on CryptoZoo items and were angry at Paul.
In his videos, that have had nearly 18 million views, Coffeezilla accused Paul of scamming investors and abandoning them after selling them "worthless" digital items.
On Thursday, Paul posted an angry rebuttal video admitting that he made a mistake hiring "conmen" and "felons" to run his project, but denied the failures were his fault.
He accused Mr Findeisen of getting facts wrong and threatened to sue him.
But on Saturday, Paul deleted his video and apologised to the investigator.
He also wrote on the CryptoZoo Discord page that he would be "taking accountability, apologising and coming forward with a plan in the near future".
No further details have been given about how Paul plans to either reimburse investors or relaunch CryptoZoo.
One 34-year-old US man told BBC News he had spent $40,000 (£33,000) on NFT eggs after hearing Impaulsive.
"At first, we all thought the project was experiencing a few hiccups - but then the way Logan dragged everyone along and then just abandoned it with no words is just wrong," he said.
"Now, it seems to me that Logan is only now trying to make amends after the Coffeezilla videos.
"I don't want a refund - I'd like to see the project completed and Logan do what he said at the very beginning.
"I don't think it will ever be as big as it could have been - but I think it's important that 'founders' do what they promised investors."
Paul has also been linked to the failed cryptocurrency coin Dink Doink, which he promoted in June 2021.
Paul first became an internet celebrity by uploading short video clips to the video-sharing platform Vine, before focusing on YouTube.
In 2017 he faced a huge backlash over a video which showed the body of an apparent suicide victim in Japan.
In recent years Paul and his brother Jake, also a YouTuber, have become professional boxers with high profile and lucrative fights against other YouTubers or retired martial artists.
Correction 9 January 2023: An earlier version of this story incorrectly stated Logan Paul had promoted the cryptocurrency coin SafeMoon - in fact, this was his brother, Jake.