News analysis elsewhere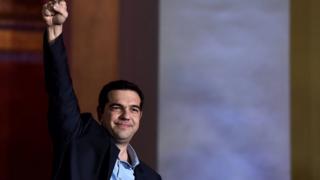 Syriza's victory in Greece is the dominant theme, with questions about what it means not just for Greece but the wider EU.
The Wall Street Journal carries an analysis piece on how the win is likely to embolden populist movements elsewhere in the eurozone.
It says that the battle lines just got messier and the way out is even less clear.
The Financial Times uses a question and answer format to look at what's next for Greece and the eurozone after the Syriza win.
The Independent takes a detailed look at the Syriza leader, Alexis Tsipras, and asks what he really wants for his country and Europe.
The Spectator's Coffee House blog turns an eye to the lessons UK politicians will draw from the Syriza triumph.
The other big story of recent days that continues to be the subject of much debate is the Saudi monarchy.
Much of the coverage has tended to focus on the the wider turmoil in the Middle East and the dangers this poses for Saudi Arabia.
But this piece in the New York Times takes a different tack, arguing that the turmoil in the region is lifting the Saudi monarchy into a position of unrivalled power and influence.