US tax cuts: House Democrats reject Obama proposal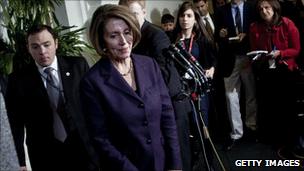 House Democrats have rejected a tax cut deal struck by President Barack Obama with the Republican opposition.
The non-binding vote was led by liberals angry about the extension of tax cuts for the rich.
The White House had spent the week lobbying Democrats to back the bill and had appeared to be winning support.
Unless the Congress acts, all American taxpayers face a big hike in their tax bill beginning in January and millions will see unemployment payments end.
"We will continue discussions with the president and our Democratic and Republican colleagues in the days ahead to improve the proposal before it comes to the House floor for a vote," House Speaker Nancy Pelosi said.
Unless the House of Representatives changes course under an intense dose of White House lobbying, the decision sends White House and Republican negotiators back to the drawing board.
It is unclear what other options are available.
The debate over the tax cut comes as the current "lame duck" session winds down. The core issue is the extension of low tax rates enacted by President George Bush and the Republican party in 2001 and 2003 and due to expire at the end of the year.
Some surveys suggest a majority of the American public supports Mr Obama and the Democrats' preferred approach, which would allow taxes on the rich to rise next year.
Republicans in the Senate twice blocked votes on those proposals at the weekend.
Mr Obama had vigorously opposed extending the cuts for the richest Americans, saying they are unaffordable at a time of steep budget deficits.
But announcing the deal, he said a bitter compromise was the only way to avoid damage to American families and the economy that would ensue if taxes rise and long-term unemployment benefits are allowed to end.
Liberals, meanwhile, have been outraged that Mr Obama agreed to extend tax cuts for the rich and also to a lower rate on the estate tax.
The White House has deployed Vice-President Joe Biden to mollify angry Democrats and the administration appeared to have won support in the Senate.
But House Democrats, a more fractious and liberal group than those in the Senate, revolted on Thursday.
In a voice vote, the Democratic caucus on Thursday passed a non-binding resolution declaring the tax cut deal should not come to a floor vote.
"If it's take it or leave it, we'll leave it," said Representative Lloyd Doggett, a Texas Democrat.