Potters Bar families' fight over, but anger remains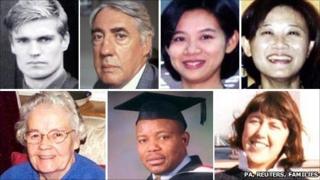 For the seven families devastated by the Potters Bar rail crash on 10 May 2002, the last eight years have been long and painful.
Not only have they endured the grief of losing their loved ones, but also the ordeal of fighting to get answers about why the 1245 London to King's Lynn careered off the track that day.
But after seven years of campaigning for a public inquiry and for the rail authorities to be held to account, last year the bereaved relatives were finally forced to settle for an inquest.
Now, at the end of two-months of hearings in Letchworth, Hertfordshire, many of those families say they still feel short changed.
Although they accept many of their questions about the practical causes of the derailment have been answered, they describe a lingering anger that no-one has been truly held to account.
'Very traumatic'
For Pat Smith, whose 80-year-old mother, Agnes Quinlivan, was killed by falling debris as she walked under the railway bridge in Potters Bar that day, only a public inquiry would have had the necessary legal power to force the rail authorities to face their responsibilities.
"I think we would have got more answers - more people would have had to stand up and face up," she says. "We would also have had access to more documents."
But the 62-year-old, who still lives in Potters Bar and attended many of the hearings, says she accepts the inquest went as far as it could - and describes the evidence as "very comprehensive".
Some of it was shocking and difficult to hear, she says, especially testimonies of reported "rough rides" before the accident, which were not adequately reported or acted upon by rail staff.
"At one stage you thought, 'No-one has joined the dots up'," she says. "For the seven bereaved families it has been very traumatic."
However, she has found some comfort in sharing her grief with the other relatives - a "strange group", she says, who would never have met if they hadn't all lost someone in the same tragic event.
"They were seven loved and very gifted people who had much more to offer in their lives," she adds.
'Best son'
One of those gifted people was 25-year-old Cambridge PhD student Jonael Schickler, who was travelling back from the German Embassy in London when the accident happened.
Jonael, a keen cellist with model good-looks who was just completing a doctorate in philosophy and religion, was marking his students' work in the train's fourth carriage when he lost his life.
"He was exceptional - brilliant, very outgoing," his mother Diana Fischer-Schickler remembers proudly. "But he was also very caring. He was the best son you could have wished for."
The 62-year-old will never forget the moment police knocked on her door in East Sussex to deliver the news of her eldest son's death at midnight on the day of the crash.
Flanked by her younger son, she describes the feeling of utter disbelief.
"We were just standing in the hallway. I completely shut down," she recalls.
But she quickly realised she had to accept what happened.
"I am someone who takes things in very quickly, and I thought I've got to be strong because he was strong and he would've wanted me to be strong," she says.
During the next few months Mrs Fischer-Schickler dealt with her grief quietly so as not to upset her younger son. She recalls "screaming in the car" only when no-one was around.
"I was in enormous shock," she says. "No-one's the same after that."
She agrees with many of the other families that a public inquiry would have fully investigated the circumstances of the derailment, and says the last eight years have been "a long time to wait for answers" about her son's death.
'No apology'
Although she is "very grateful" the inquest has helped make some things clearer in her mind, she saves her anger for the "despicable" behaviour of the rail authorities before and after the accident as well as during the hearings.
"I feel satisfied they have explained the root of the accident, but I don't feel satisfied with what has happened to [rail maintenance firm] Jarvis and [Network Rail predecessor] Railtrack," she says.
There was "no recognition of their responsibility and no apology" from those responsible for rail safety, she says, which "compounded the losses that we all suffered".
The companies accepted legal responsibility for compensation claims but not blame for the accident and were informed by the Crown Prosecution Service in 2005 that they would not face criminal charges.
As for her own grief, over the years Mrs Fischer-Schickler has gained comfort from meeting Jonael's many friends and reading his very detailed diaries, which, she says, recorded his life "as if he knew he wouldn't be around for long".
She also recounts a story told by one of her late son's friends, in which Jonael, aged 18, was told by a fortune teller during a gap-year trip to Nepal that "he would die young".
But for Mrs Fischer-Schickler, and the six other families, the impact of the events of 10 May 2002 will continue long after the inquest has closed its files.
Perhaps speaking for them all, she says: "The pain is always there, but you learn to live with it."