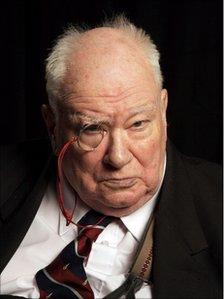 Patrick Moore was the monocled surveyor of the sky who awakened in millions of people an interest in galactic goings on.
His love of astronomy began at the age of six and that childhood curiosity developed into a lifelong passion.
It was a passion he shared through his programme, The Sky at Night, which he presented for more than 50 years.
Patrick Alfred Caldwell-Moore was born at Pinner, Middlesex on 4 Mar 1923.
Heart problems meant he spent much of his childhood being educated at home and he became an avid reader.
His mother gave him a copy of GF Chambers' book, The Story of the Solar System, and this sparked his lifelong passion for astronomy.
He was soon publishing papers about the moon's surface, based on observations made with his first three-inch telescope.
When war came he turned down a place at Cambridge and lied about his age to join the RAF, serving as a navigator with Bomber Command and rising to the rank of Flight Lieutenant.
His RAF experiences, which included a visit to the Dachau concentration camp, left him a bitter opponent of war.
The war also brought a personal tragedy. His fiancee, Lorna, was killed when an ambulance she was driving was hit by a bomb. He never married.
"That was it," he said. "There was no one else for me. Second best is no good for me. I would have liked a wife and family, but it was not to be."
After the war he taught for a time at a prep school but his interest in astronomy came to dominate his life. He built his own telescope in the garden of his Sussex home and began to observe the moon.
The detailed maps of the moon's surface that he produced during this time were used by Nasa as part of the preparations for the moon landing.
A growing interest in extra-terrestrial matters persuaded the BBC to launch a new programme explaining the mysteries of space and Moore was chosen to present it.
At a time when pulsars, quasars and black holes were unknown, the show, initially called Starmap, was scheduled to run for three months.
The first edition of The Sky at Night was broadcast on 24th April 1957, six months before the launch of Sputnik, the world's first artificial earth orbiting satellite, began the modern space age.
"I thought The Sky At Night would last only a few months," he once said. "It's nobody's enemy. It's cheap and non-controversial. It is no skill on my part."
But astronomical developments came thick and fast, The Sky at Night became a television institution and Moore stayed with it for more than four decades.
During that time he missed just one episode, when he was struck down by food poisoning in July 2004.
In 1965 he became the director of a new planetarium at Armagh, in Northern Ireland, a post he held for three years.
In 1969 he was part of the BBC commentary team which described the moon landings.
His appearance was as distinctive as his passion for the stars. At six foot three, Moore carried an air of permanent "donnish dishevelment".
With his raised eyebrow and monocled glare, he could have been mistaken for an incommunicative academic.
But his enthusiasm was contagious and unstoppable. Unfathomable images became exciting lunar postcards through Moore's interpretation and at his most fervent, he would speak at 300 words a minute.
Despite his expertise on our solar system, Moore never had any formal training and described himself as an amateur astronomer.
But his reputation as a ground-breaking ambassador of science was recognised when he was knighted in 2001.
Away from his telescope, Moore's great loves included cricket, taking part in television panel games and the xylophone, which he played often in public, despite never taking a lesson.
Characteristically, he taught himself to compose music at the age of nine, and wrote a number of pieces over the years, some of which were recorded.
He once managed to combine his interest in music with his passion for science. In an historic encounter, he played piano, while his musical partner on the violin was Albert Einstein.
His other TV credits include the role of Gamesmaster in the 1990s computer games show of the same name.
He was a noted opponent of fox hunting and had a passion for cats, many of which, over the years sprawled happily across the papers on his desk while he worked.
His wartime experiences left him with a strong antipathy to the European ideal and he became an enthusiastic member of the UK Independence party.
He was also, briefly, the finance minister for the Monster Raving Loony Party, of whom he said "They had an advantage over all the other parties, in that they knew they were loonies."
He wrote more than 70 books during his lifetime, most of the manuscripts banged out on a 1908 manual typewriter. The space enthusiast had an abhorrence of new technology.
With his boundless energy and many interests, Patrick Moore could have made a fortune, but he said his astronomy would have suffered.
He called it his hobby, not his work. But many renowned professionals were first inspired by his infectious enthusiasm.
Buzz Aldrin, the pilot on the Apollo 11 moon landing, paid him this tribute in a BBC interview in 2009.
"Astronomy has grown in leaps and bounds and it's people like Patrick who have been able to put it into perspective so that ordinary people understand the enormity of the universe."
Related Internet Links
The BBC is not responsible for the content of external sites.