Russia criticises UK expulsion of diplomat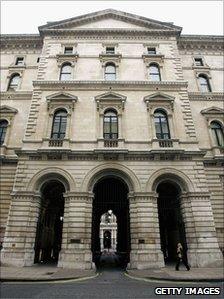 Russia says the UK's decision to send home a diplomat from its London embassy over espionage concerns is "groundless" and an "unfriendly step".
On Tuesday, the UK's Foreign Office said it requested the move on 10 December due to "evidence of activities by the Russian intelligence services against UK interests".
Russia then made a similar request about a UK diplomat six days later.
Its foreign ministry has now said it was forced to respond in the same way.
It published a statement on its website, saying: "The British side has recently taken an unfriendly action, having - without any grounds - declared a member of the diplomatic staff of our embassy in London persona non grata.
"We were forced to take an adequate retaliatory step.
"It is regrettable that the actions of the British side were taken at a time when there emerged the first encouraging trends in our relations with Great Britain.
"Responsibility for the consequences of this incident fully rests on those who initiated it."
The BBC's Daniel Sandford in Moscow said the statement issued by the Russians was "surprisingly strong" as the briefings held with officials in both countries appeared to suggest they wanted to make the moves as low-key as possible.
Announcing the expulsion, UK Foreign Secretary William Hague said: "Russia responded on 16 December by requesting the removal of a member of our embassy staff in Moscow. We reject any basis for that action."
He said both diplomats had returned to their home countries, adding: "We remain open to a more productive relationship with Russia, as with any other country, on the basis of respect for our laws."
The BBC's diplomatic correspondent Bridget Kendall said it was understood the Russian diplomat "crossed the line and broke the rules".
"Not in any very serious way, but enough for it to be clear that it was what shouldn't be happening and that's why they asked for him to go back.
"A Russian response was inevitable."
She added espionage was something that inevitably received a lot of publicity in both countries.
Meanwhile former parliamentary researcher Katia Zatuliveter - whose case is understood by the BBC to be unrelated to the expelled diplomat - continues to be detained by the UK government.
The 25-year-old Russian is currently appealing against a British deportation order issued on national security grounds.
Related Internet Links
The BBC is not responsible for the content of external sites.