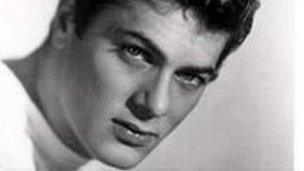 With his pompadour haircut and knowing blue eyes, Tony Curtis cut a charming, good-humoured figure in Hollywood for more than half a century.
He emerged as a likeable survivor of the star system, who lived by his own ethos that "it's supposed to be fun".
Born in Manhattan to an immigrant Jewish tailor from Hungary, young Bernard Schwarz lived behind his father's shop on the East Side, before moving to the Bronx.
Speaking Hungarian at home, he was a young tearaway who lived by his wits and fast feet, often in street gangs.
Nevertheless, as a teenager he appeared in several plays in New York and worked at the Yiddish Theatre in Chicago. Despite his inability to speak this language, the young actor learned his lines phonetically and called himself B White, lest the audience thought him Italian.
As a Navy signalman during World War II, he went east, where he witnessed Japan's formal surrender. After his wartime service, he signed up for a drama workshop where his classmates included Walter Matthau and Rod Steiger, and was soon bound for Hollywood.
As Tony Curtis, his break into films came in 1949 when he spent two minutes on screen, dancing Yvonne de Carlo into the arms of Burt Lancaster in the film Criss Cross.
Curtis' good looks and versatility took him on to success in more than a hundred films, including Houdini, Trapeze, The Sweet Smell of Success, Operation Petticoat and The Last Tycoon.
He created one of the earliest homoerotic moments in Hollywood when he bathed his master Laurence Olivier, while discussing oysters and snails, in the 1960 Spartacus.
He defied stereotype in 1968 to take the title role in The Boston Strangler. For The Defiant Ones, with Sidney Poitier, Curtis earned his only Oscar nomination in 1958.
Early in his career, Curtis had cut rather a swashbuckling figure in his films. After watching Curtis sing and dance his way through So This is Paris in 1954, his friend Gene Kelly had advised the young actor to "keep fencing".
Nevertheless, the most popular role of Curtis' career involved more music. In Billy Wilder's 1959 comedy masterpiece, Some Like It Hot, the actor joined Jack Lemmon to play a couple of musicians who fear for their lives after witnessing the St Valentine's Day massacre.
The pair's unlikely flight to freedom involved going into drag, escaping to Palm Beach and joining an all-girl band in which Marilyn Monroe played the ukulele. The film included Curtis' celebrated impersonation of his own matinee idol, Cary Grant.
In 2000, the American Film Institute celebrated the enduring appeal of Some Like It Hot, naming it the nation's funniest ever movie.
At the age of 77, Curtis took on the older role of cuckolded millionaire Osgood Fielding when the script was revised for the stage, and had the pleasure of reciting the famous last words, "Nobody's perfect".
Curtis himself never professed to be, marrying five times, claiming affairs with all his leading ladies, including Monroe, making his share of what he called schlock and admitting to working "to pay the bills".
In Britain, many knew him best for his role in the 1970s television series, The Persuaders, alongside Roger Moore.
His first wife was Janet Leigh, victim of the famous shower scene in Psycho, and their daughter is actress Jamie Lee Curtis.
Curtis once said, "I wouldn't be seen dead with a woman old enough to be my wife" and, sure enough, his sixth wife, Jill VandenBurg, was 45 years younger than him.
He lost his son Nicholas to a drug overdose in 1994 and had periods of addiction himself. However, in later years, he was able to escape the pressures of Hollywood by taking up a new hobby.
He built a painting studio at his home in Las Vegas and his artwork was featured at several high-profile galleries.
After fifty years in show business, Curtis looked back on his career in Hollywood with a mixture of resentment and gratitude.
He felt his work wasn't taken seriously by the studio chiefs, who saw him as a "handsome kid who happened to be Jewish".
But he didn't regard his career with too much gravitas, either. His great number of film roles often revealed the sunny side of his personality, and Tony Curtis regarded his stardom as a way to "get great tables at restaurants, beautiful cars to drive and the love of lots of people".
Related Internet Links
The BBC is not responsible for the content of external sites.