Statistics watchdog renews crime figures warning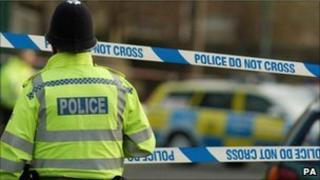 The chairman of the UK Statistics Authority has renewed a warning over politicians' use of crime figures.
Sir Michael Scholar spoke out after Prime Minister David Cameron told MPs that violent and gun crime "nearly doubled" under Labour.
The head of the statistics watchdog said he stood by a previous ruling that the Tory accusation was based on an "impossible" comparison of data.
Sir Michael's comments came in a letter to shadow home secretary Alan Johnson.
Mr Johnson lodged a complaint about comments made by Mr Cameron during prime minister's questions last week.
Sir Michael also said the accusations were "likely to damage public trust" in the figures and he urged MPs and others to "take account" of his concerns.
He said that, following a fresh examination of the statistics, his view was "unchanged" since he rebuked former shadow home secretary Chris Grayling over a similar Tory claim made earlier this year.
Claims of a rise were based on a direct comparison of annual police statistics - but this was made impossible because of a change in the way they were recorded over the period, he said.
A "more reliable measure" was the annual British Crime Survey which showed no increase in public experience of such offences, Sir Michael added.
But critics of the British Crime Survey say it does not provide an accurate picture, as more serious offences such as murder are excluded.
Sir Michael, who did not criticise the prime minister directly, said: "The authority does not wish to be drawn into the political debate, and cannot assume the role of a referee on each occasion that an official statistic is misquoted or misinterpreted.
Statistics review
"But I hope that those who comment in Parliament and elsewhere on trends in violent crime will take account of the points made in this letter."
In his February letter to Mr Grayling, Sir Michael warned: "I must take issue with what you said yesterday about violent crime statistics, which seems to me likely to damage public trust in official statistics."
A copy was sent to Mr Cameron at the time and Sir Michael, in a later letter to Mr Grayling, said he was "glad to learn from press reports that you have undertaken to take the UK Statistics Authority's views into account in making further comments about crime statistics".
Downing Street said Sir Michael's letter had been received but insisted the way the statistics were compiled allowed only a "partial or confused" picture to be presented.
"There has been a long-standing debate about crime statistics. Current crime measures present either a partial or confused picture about the level of offending," a spokeswoman said.
"That's why the home secretary is reviewing how crime statistics should be collected and published in future."