Papers celebrate appointment of Gen David Richards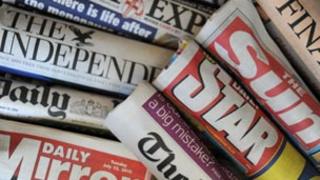 The appointment of General Sir David Richards as the Chief of the Defence Staff is greeted with universal acclaim in the papers.
The Daily Telegraph says Gen Richards is the right man for a difficult job; the Sun hails him a soldier's soldier.
The Daily Mail says he is a man trusted by both politicians and front line troops, while the Times celebrates his reputation for straight talking.
The Financial Times agrees that Gen Richards will speak his mind.
'Facebook morons'
In other news, the Mail leads with the prime minister's criticism of people who have paid tributes to gunman Raoul Moat on Facebook.
For the Daily Mirror, it is a sad reality that a disturbed minority will always side with the criminal.
The Sun finds the "Facebook morons... revolting". It is PC David Rathband who deserves a fan club, it says.
Meanwhile, the Financial Times says Mr Cameron's failure to find a high-profile trade minister is embarrassing.
Blair 'livid'
The Times reports Britain's embassies and high commissions are likely to be affected by spending cuts.
It says hundreds of senior diplomats are expected to lose their jobs as cheaper local staff are taken on.
The paper also says Tony Blair is "livid" about assertions in Lord Mandelson's memoirs.
The Guardian claims highly classified documents have spelled out the extent of the Labour government's involvement in torture allegations.
Uniform holiday
According to the Telegraph, Britain leads the Quality of Death index.
It cites a study, carried out by the Economist Intelligence Unit, which ranked 40 countries by the support offered at the end of people's lives.
Elsewhere, the Guardian reports a court in Germany ruled getting dressed should be considered part of a police officers's working day.
He has won an extra week of holiday every year to compensate for the time it takes him to put on his uniform.