Many elderly Britons 'lack medical cover abroad'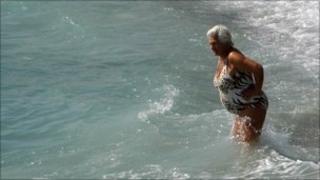 Many elderly Britons who fall ill while abroad are facing costly treatment and repatriation bills, a report has said.
The Foreign Office says people buy travel insurance but often fail to declare pre-existing conditions.
The annual report, British Behaviour Abroad, is based on cases reported to its global staff between April 2009 and March 2010.
Meanwhile, the Association of British Insurers said total medical bill payments hit a high of £274m in 2009.
The Foreign Office also said 944 Britons were arrested for drug-related offences last year.
This accounts for a seventh of all arrests of British nationals around the world.
The report shows that overall most Britons (5,283) needed consular assistance in Spain.
However, as a proportion of British visitors and residents, most assistance was needed by Britons in Thailand (957), Pakistan (273) and Cyprus (736).
There were 5,930 reported deaths of UK citizens abroad, including natural causes, accidental deaths and unlawful killings, compared with 5,629 deaths the previous year. Proportionally, most Britons died in Thailand (292) Germany (563) and Cyprus (323).
A total of 6,439 Britons were arrested or detained abroad in 2009/10, 3,689 were hospitalised and 19,839 needed consular assistance.
This compares with 6,919 Britons arrested or detained in 2008/09, when there were 3,146 hospitalisations and 19,387 needing consular help.
The highest number of hospitalisations in 2009/10 occurred in Spain (831), followed by Greece (471) and Egypt (235).
Insurance woes
One hospitalisation case involved a retired man who suffered a major heart attack while travelling in the US.
His wife called the consular team to seek advice after their insurance policy was deemed invalid as the couple had failed to declare the husband's double bypass operation some 20 years before.
Having already paid $10,000 (£6,500) to the hospital, the wife was concerned about costs and Foreign Office staff helped her to arrange a payment plan via the hospital's financial department.
Separate Foreign Office research also found almost one in five (19%) of travellers left home without travel insurance.
Preventable situations
According to the Foreign Office figures, there were 2,012 Britons arrested in Spain last year, significantly more than in any other country.
But when taking visitor and resident numbers into consideration, proportionally Thailand is the country where the highest number of Britons were arrested (249) followed by the United Arab Emirates (265) and the US (1,367).
Drug offences were a significant cause of these arrests, contributing to more than a third of the total arrests in France (37%).
Spain was the country in which Britons had the most passports lost or stolen, with 6,618 cases in 2009/10.
Foreign and Commonwealth Office Minister, Jeremy Browne, who will unveil the report in Thailand, said: "This report shines a light on the number of Britons who get into difficulty abroad each year.
"The worrying fact is that so many of these situations are preventable. Helping out Britons in trouble abroad is part of our job, but we can't get you out of jail or pay your hospital bills.
"A bit of preparation before you go, such as arranging travel insurance and checking our website, will ensure you get the most out of your trip without bad memories and big bills."
In a its report, the Association of British Insurers (ABI) said the industry paid out about the equivalent of £5.3m every week to meet the cost of emergency medical treatment for UK travellers last year.
It said it dealt with 366,000 claims for treatment for UK travellers who fell ill while abroad - more than 7,000 cases per week.
The ABI added that medical treatment costs now accounted for 60% of all claims paid by travel insurers, up from 33% five years ago.