UK Jews 'back Israel two-state solution'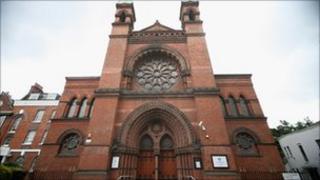 A majority of British Jews believe Israel should swap territory for peace, and negotiate with Hamas, a survey suggests.
Some 72% agreed Israel's action in Gaza in 2008 and 2009 was "a legitimate act of self-defence".
But 77% favoured a "two-state solution", creating a Palestinian state, as the "only way" to make peace.
The study of 4,000 people was carried by the Institute for Jewish Policy Research (JPR).
Just over half, 52%, said they would support Israeli government negotiations with Hamas.
The study found British Jews strongly identified with and supported Israel, with nine out of 10 having visited it.
BBC religious affairs correspondent Robert Pigott said although Israel clearly remained a cornerstone of Jewish identity in Britain, the survey suggested a substantial majority of Jews believed that they should be free to criticise Israel in the British media.
Potential criticism indicated in the study included perceived corruption in Israeli society and discriminatory treatment of minorities.
JPR executive director Jonathan Boyd said: "Fundamentally, we found that most Jews feel a strong sense of connection to Israel, and for many it forms an important, and even central, part of their Jewish identity.
"Jews in Britain are pro-Israel and pro-peace. Their hawkishness on some issues is typically motivated by a clear concern for Israel's security, while their dovishness on others reflects a deep-set desire to see the country at peace, both with itself and with its neighbours."
Research for the report, called Committed, concerned and conciliatory: The attitudes of Jews in Britain towards Israel, was conducted online by Ipsos Mori between 7 January and 14 February 2010.