'Big rise' in spending on prison and probation system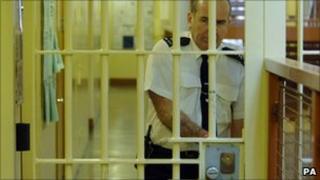 Spending on the prison and probation system in England and Wales has risen by 36% since 2004, but front-line staff remain overstretched, a study has said.
It calculates that the National Offender Management Service (Noms) - which runs the prison and probation services - spent £4.9bn in 2008-09.
The independent report from the Centre for Crime and Justice Studies said this compared with £3.6bn in 2004-05.
The Ministry of Justice said locking up more prisoners was "unsustainable".
'Increased overcrowding'
The Centre for Crime and Justice Studies report said the big increase in spending on prisons and the probation service since 2004 came despite Noms - which was set up that year - being meant to save money.
It further said that despite the overall rise in Noms spending, public prisons "have experienced successive annual real terms cuts in expenditure per prisoners since 2006 and overcrowding has increased".
For the probation service, it said front-line staffing levels had fallen since 2006 "in the face of a continuing rise in the number of people subject to probation supervision".
Justice Secretary Ken Clarke said earlier this week that there was no link between increased prisoner numbers and less crime.
Instead, he said the decline in crime since the 1990s may have been due to economic growth and high employment levels.
"As the justice secretary has said, spending more public money, locking up more prisoners for longer, is an unsustainable strategy which does nothing to enhance public safety in the long term," said a Ministry of Justice spokesman.
"We need an enlightened and an effective penal system that the public can both trust and afford to pay for.
"The government's programme, which includes a review of sentencing, the rehabilitation revolution along with prison and probation reforms, aims to deliver that goal."
'Increasingly brittle'
Mr Clarke's comments came on the same day as the Chief Inspector of Prisons for England and Wales, Dame Anne Owers, warned that "overpopulated" prisons are "increasingly brittle".
She said the government should invest in alternatives to locking people up.
Meanwhile, official figures on Thursday showed that the number of crimes committed in England and Wales has fallen to its lowest level since records began in 1981.
In 2009-10, crimes committed fell to 9.6 million - 9% below the previous year, said the latest British Crime Survey.