Lib Dem peer brands press coverage of prisons 'crass'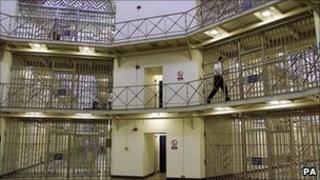 The approach of some newspapers to the debate over prison reform is "crass in the extreme", Justice Minister Lord McNally has said.
He told the House of Lords that papers like the Daily Telegraph and Daily Mail were "preventing rational debate" about possible changes to sentencing policy.
Justice Secretary Ken Clarke has criticised the use of short jail terms.
Lord McNally has also said Mr Clarke is "sympathetic" to the idea of abolishing the mandatory life sentence for murder.
Mr Clarke, who is also Lord Chancellor, said last month that prison had too often proved "a costly and ineffectual approach" to tackling crime.
He promised to reform the justice system to focus more on cutting reoffending and suggested reducing the number of short sentences given out.
'Very depressing'
On Monday, Lord McNally told the Lords that Mr Clarke was also "sympathetic" to a Law Commission idea to introduce a system of first and second degree murder, as is the case in the United States.
But the Lib Dem peer said on Thursday that the response to those suggestions in some quarters of the written press had been "very depressing".
"It isn't the case, as has sometimes been suggested, that the Lord Chancellor is throwing the gates of the prisons open," he told the Lords.
"But it does give us an example, if you read the Telegraph and the Mail, of how difficult it is to get a proper and rational debate about the criminal justice system, given a media which is written, I presume, by well-educated men and women, and yet editors, journalists and newspaper owners seem to condone an approach to this which is crass in the extreme."
The Daily Telegraph ran an editorial on Tuesday warning that a two-tier system for murder would be a "mistake" and "that a life sentence should always be passed to recognise the unique nature of the crime".
The Daily Mail accused Mr Clarke of being "too Liberal" on crime, and its coverage included a comment piece which stated: "The fact is that, for victims, even short prison sentences do work."
Lord McNally said: "If you want to propose any change in the system, the knee-jerk reaction is to go and find some recent victim of crime and get them to say how terrible it would be to let prisoners out.
"It becomes very depressing that you get that. And I just often wonder... whether they think sensibly about what kind of emotions they are stirring up and what kind of rational debate they are preventing on this issue."
Fellow Lib Dem peer Lord Thomas QC added later: "We want to get away from the red mist which arises in newspaper editors, and sometimes in the public, because it creates a climate of fear, and we live in a country which doesn't need a climate of fear."
During the debate, Labour's Baroness Kennedy QC called for the "abolition of imprisonment for all minor offences".
She also said there should be "women-only courts" which would address the "welfare issues" that lead women to commit crime.
The BBC has approached the Telegraph and Mail for a comment, and is awaiting a response.