Marine shot dead in Helmand named as Matthew Harrison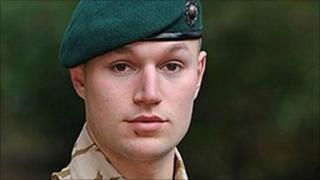 A Royal Marine shot dead in Afghanistan a day before his 24th birthday has been named by the Ministry of Defence.
Matthew Harrison, of 40 Commando, was one of four members of the British armed forces killed in one day.
The marine, of Hemel Hempstead, Hertfordshire, was killed on foot patrol on Tuesday, while serving as part of Combined Force Sangin.
His parents, Brian and Janette, said their son was "quiet, warm hearted... and absolutely dependable".
The MoD said marine Harrison had been part of a "joint reassurance patrol" by Charlie Company and members of the local Afghan National Army.
He was wounded in an attack and evacuated to hospital at Camp Bastion, where he died of his wounds.
His parents were reported as saying on the MoD website that he had "boundless energy... was greatly loved and will be greatly missed".
"Matt was unique, full of character and full of life, always up for a challenge. He was passionate about being a marine and serving out on the front line," they said.
"He died doing what he said he 'needed to do'.
"Behind the marine, Matt had a sensitive soft heart, a precious loveable son... only God knows how precious Matt was."
Marine Harrison's brothers David, Steven and James, said in a statement: "Matthew was an understated genius who could achieve anything he set his mind to.
"Matt's short and action-packed life, depicted in true Harrison spirit, will be an enduring source of inspiration for those who were privileged enough to know him."
Lt Col Paul James, Commanding Officer 40 Commando Group, Combined Force Sangin, said the 23-year-old was "brilliant in every sense".
"As a Royal Marine he was the consummate professional and in personality he was irrepressible, always wearing his trademark beaming smile.
"He died on patrol in central Sangin, tragically on the eve of his 24th birthday, but he died with pride, doing the job he loved and amongst his band of brothers, his friends who will love him forever."
'Intelligence and bravery'
Marine Harrison was awarded the King's Badge for being the best all-round recruit in the senior troop during his training.
His comrades spoke of his sensitive nature coupled with the great bravery he showed in leading patrols and saving the lives of fellow Marines by clearing safe routes and finding hidden bombs in Sangin.
Major Ed Moorhouse said Marine Harrison's death meant a "bright light" had been extinguished in his company in 40 Commando.
He said: "It was he who led the way on patrol in Sangin, it was he who cleared the route and marshalled his colleagues, it was he who remained alert to the danger on every corner."
Sergeant Danny "Smudge" Smith, Troop Sergeant 7 Troop, Charlie Company said Marine Harrison would be remembered for his "hugely infectious smile, his light-hearted humour and his incredibly soft nature".
"Underneath his warming smile was intelligence and bravery that most of us could only ever dream of.
"His ability to think one step ahead of the enemy was outstanding and his eye for detail impeccable, his natural courage was also extremely inspiring.
"Matt was always first to volunteer to go point man on patrol, clearing a safe route for his boys behind, first to climb a ladder to check a compound was clear of the enemy and always willing to carry the heavy kit so others wouldn't suffer."
Defence Secretary Liam Fox said: "Marine Matthew Harrison's selfless bravery and commitment to his duty, volunteering to put himself in harm's way to protect the lives of others, mark him as a true hero.
"My deepest sympathies go to his family, friends and fellow Marines. His sacrifice will not be forgotten."