Fromelles dead offer reminder of 'preciousness of life'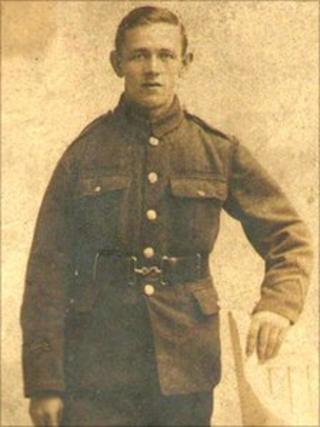 The Battle of Fromelles remained a largely-forgotten episode of World War I for decades, mainly remembered by families of the hundreds of British and Australian soldiers slaughtered in just a few hours there.
Scores of relatives will gather later for the dedication of the new Fromelles Military Cemetery, in northern France, and the burial of the last of 250 Allied soldiers reinterred there.
Among the relatives attending the ceremony is Alastair Matheson, 48, of London, who was told the sad story of his "great-uncle Christy" as a young boy.
"It's 90 years ago since this happened and he is still remembered in the family, and it still creates a kind of turbulence in the family after all this time," says Mr Matheson.
The new cemetery is the first built by the Commonwealth War Graves Commission (CWGC) since World War II.
Its creation follows the discovery two years ago of the remains of the 250 men in a nearby communal grave, where they had been buried by their German counterparts.
As efforts using DNA tests are ongoing to try to identify the dead, they are honoured with the dedication of the cemetery on the battle's 94th anniversary.
This historic event, and the decades-old, personal stories of all the men buried there, carry a painfully relevant message, says Mr Matheson.
"It makes me think of the soldiers being killed today, our troops sent to Iraq and Afghanistan, those kids being killed out there," he says.
"In 90 years from now, their families are probably going to be feeling and remembering in the way we are. It underlines how precious life is.
"If people are still going to remember the dead in 90 to 100 years, it should be only the very, very last resort that people risk sacrificing life in war like that."
Missing in action
About 1,500 British soldiers and more than 5,500 Australians are believed to have been killed or wounded at Fromelles, in a doomed attack intended to divert German resources away from the Allies' Somme offensive to the south.
Of the 250 bodies found in 2008, DNA tests have identified 96 Australian dead by name, with a further 109 known to be Australian nationals and three confirmed as unnamed Britons. Forty-two bodies remain completely unidentified.
Sue Raftree, of the UK military's Joint Casualty and Compassionate Centre, says there is still hope of further identifications - including the possibility of confirming a British name.
Family tree research could later track down a relative whose DNA produces a link, while there are more than 140 missing Britons who fought at Fromelles for whom no relatives have yet come forward.
"We are hopeful of positively identifying someone as more families come forward," says Ms Raftree.
'Proper memorial'
When he heard about efforts to identify the bodies found at Fromelles, Richard Parker's immediate hope was an answer to the mystery of his uncle's final resting place.
The 76-year-old, of Haywards Heath, West Sussex, and a cousin both gave DNA samples in the hope of a link being made to the remains of 2nd Lt Fred Parker. The Oxford soldier was 19 when he died.
"We thought at long last we would have closure," says Mr Parker. "We have been hoping all this time that there would be a letter from the Ministry of Defence that they had finally identified him but, I am afraid, no such luck so far."
While Mr Parker's cousin has been left speculating whether their relative "was possibly blown to pieces on the day of the battle, so nothing remains of him", Mr Parker remains optimistic.
"I just have a feeling that there is still a possibility, so going to France I shall have that in the back of my mind."
He takes comfort from the new cemetery, which he says offers long-overdue recognition for a little-remembered battle and the sacrifice of hundreds of young men who languished for almost a century in a mass grave.
"It's a proper, permanent memorial to all those men who were killed all those years ago."
'Lost soul'
Mr Matheson says the story of the death of L/Cpl Christopher Ryan has left a "lasting sadness in the family when they reflect upon it".
Passed down through generations, the tale portrays the Liverpudlian as "a sensitive fellow not really cut out for soldiering", says Mr Matheson, "but like many others he volunteered and went over there".
After being wounded, he was convalescing back home when he was approached by an unknown woman who saw him and assumed he had not joined up; she thrust into his hand a matchbox of white feathers - a symbol of cowardice.
The soldier felt humiliated and took himself back to the Western Front before he had fully recovered from his earlier injury. He was killed at Fromelles aged 20.
Mr Matheson says: "The notion that it can somehow make things right by finding the remains of the dead is not true.
"Our Christy is still among the lost. The truth is, even if we were to find the body, that he was a lost soul who was lost in war."
He adds: "We are pleased that his story has been able to be told again, and we are pleased that people are being remembered."
L/Cpl Ryan is just one of more than 165,000 Allied soldiers killed on the Western Front whose bodies remain missing, according to CWGC.
"It's the ones who are lost who have the greater symbolic importance," says Mr Matheson.
"While finding people is great, and it's important that we should do it, the greater truth is the truth of people lost. Even when we find a few, the loss is the thing that is more important to remember."