Cash from London robberies turned up in South Africa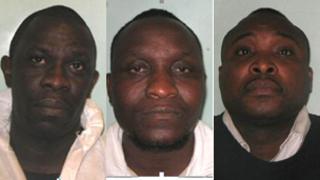 Three men have been jailed after £40,000 from a series of cash van raids in London turned up in South Africa.
A Mitsubishi Shogun car, containing the money, was found on the quayside in Durban, South Africa, in December 2008.
Theo Boateng, 47, from Harlow, Essex, Takaidza Hungwe, 43, from Gillingham, Kent, and Ebenezer Gyau, 43, from Enfield, north London, were convicted of conspiracy to rob.
They were jailed for a total of 45 years at Snaresbrook Crown Court.
Sentencing them, Judge Inigo Bing said: "Robbery of cash custodians is a lucrative activity.
"They make our lives normal by servicing the numerous cash machines in banks and building societies on the streets of London (which are replenished) in the hours of darkness."
The gang committed at least five robberies on security guards in Bethnal Green, East Ham and Stoke Newington between April and December 2008.
Hungwe, who is from Zimbabwe, and Boateng, a Ghanaian, were given vital information about the van's routes by Gyau, an "inside man" who worked for G4S.
Gyau, who is also from Ghana, supplied them with a way to open the cash boxes without being detected.
Boateng, who was convicted after a trial, was jailed for 18 years while Hungwe and Gyau, who both pleaded guilty, were jailed for 14 and 13 years respectively.
Judge Bing also ordered the confiscation of the Shogun and the money and the destruction of the gun.
Detective Chief Inspector Ian Corner, of the Flying Squad, said: "These individuals were well-motivated criminals willing to use firearms to reinforce their demands and place the public at risk. Today's lengthy sentences are a reflection of the danger they posed.
"This was a painstaking investigation by the officers concerned and confirms the Flying Squad's commitment to tackling organised criminal networks and gun crime - both of which blight our communities, causing untold damage."
In mitigation, Nigel Lambert QC, for Hungwe, said his client had come to Britain in 2000 and been given leave to remain in 2006.
He said he had run a Zimbabwean grocery and music shop while his wife worked as a nurse in Kent.
But he said his lost his business when his landlord sold the premises and he was then struck by a series of tragedies back in Zimbabwe.
Mr Lambert said Hungwe's two younger sisters died, a niece died of cholera and his mother needed a costly heart bypass operation and medication which could only be obtained on Zimbabwe's "black market".
He said Hungwe succumbed to temptation and agreed to take part in the robberies while "at a very low ebb".