Newspaper review: Papers report BP oil leak success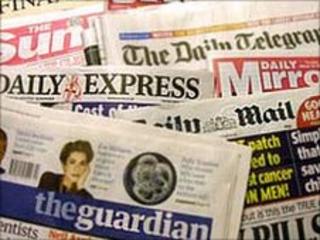 BP's apparent success in stopping the Gulf of Mexico oil leak, and the wider issue of UK-US relations, are widely covered in Saturday's papers.
The Guardian reports "clapping, handshakes and backslaps" in the US control room as the well was sealed.
"Just in time," says the Independent, with Prime Minister David Cameron's first White House visit days away.
"Stars & Swipes," says the Sun headline, as it reports Mr Cameron's vow to "stand up to America".
'Gloomy'
The government's drive to slash town hall spending "will hand billions to private sector", predicts the Guardian.
Outsourcing firms are reporting twice the number of deals on offer, it says.
The Daily Telegraph leads on Culture Secretary Jeremy Hunt's warning to the BBC of "very tough discussions" next year on the licence fee.
Accusing the BBC of "extraordinary and outrageous" waste, the head of "the supposed Ministry of Fun... is a bit gloomy", remarks the Telegraph.
Whole life
Three Labour leadership contenders are calling on Peter Mandelson to leave the political stage over his controversial memoirs, reports the Times.
Ed Miliband calls Lord Mandelson "his own worst spin doctor" who "seems to have offended just about everyone".
The Yorkshire Ripper is "one of the three dozen or so criminals for whom life must remain life", argues the Daily Mirror.
This follows a High Court ruling that Peter Sutcliffe will never be released.
Unathletic
"Row over Mr Bean and his 'petrol station' house", announces the Daily Mail about actor Rowan Atkinson's building plans in Oxfordshire.
The design for his planned modernist home is described by one local as "a space-age petrol station".
The Telegraph reports the recall of 2012 Olympic mascot costumes after the wearers struggled to move.
The mascots, meant to tour schools and inspire children to be active, "had trouble even moving an arm".