Civil Aviation Authority helps Goldtrail travellers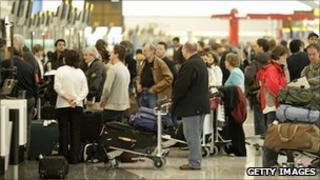 The Civil Aviation Authority is trying to arrange flights home for thousands of holidaymakers in Turkey and Greece affected by the collapse of the tour operator Goldtrail.
The first of the stranded passengers from Northern Ireland are expected back on Monday.
It is thought that up to 50,000 people had booked their summer breaks with the firm, based in New Malden, Surrey.
The company went into administration on Friday.
About 16,000 people were abroad with the company when it collapsed and the Civil Aviation Authority is making arrangements to get them home.
A further 2,000 were scheduled to fly from the UK over the weekend.
Some people face the prospect of having to pay more money up front for their holiday.
Linda McGrath from Bangor is on holiday in Kushadasi and is worried about what may happen.
"I discovered from the manager of our hotel that Goldtrail haven't paid them for two months and I will have to pay for the accommodation again when I leave," she said.
"I'll also have to confirm my flight on Tuesday with a local company. My worry is that we are two hours and a half drive from the airport and I'll have to pay £100 for the taxi. That is another additional expense - there was supposed to be a bus, but now that Goldtrail has collapsed, there will be no bus to take me to the airport."
Ms McGrath said her flight was Atol-protected and she was sure she'd get back the money.
"What is unpleasant about this situation is that there was no information about what do to and who to call. So I have to call various numbers and organise everything myself. It is a hassle and it is the last thing you want to do while on holiday," she said.
Goldtrail specialised in holidays to Greece and Turkey.
Steven McDonald from Limavady booked a £1,200 holiday to Icemeler, Turkey, just hours before Goldtrail went into administration. His partner and his young son are devastated.
They were due to fly on Monday and it is their only chance to get away this summer.
"I am totally disgusted," he said.
"I booked my holiday at 12 noon on Friday and saw the news on Saturday, but I wasn't bothered until I went to print the tickets and saw Goldtrail's name at the top. £1,200 and four hours later, they are gone.
"There is no immediate refund and the way my holidays at work go, you book them a year in advance so I can't get another holiday until September at the earliest.
"I have an 11-year-old boy asking every minute: 'Dad, why can't we just book another holiday?' But finding £1,200 isn't that easy!"
Goldtrail customers can call the CAA on 020 3441 0846 for the latest information about the collapsed company.
The CAA said all flights back to the UK from Turkey and Greece would operate as scheduled up to and including Monday.
Information on flights from Tuesday would appear on its website later.
There had been rumours for several months that Goldtrail was not doing well. The CAA had informally predicted that smaller tour operators could find it hard to survive.