Afghan army lead major operation in Helmand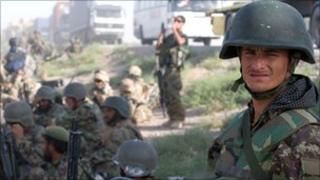 British-trained Afghan army troops have led their first operation in central Helmand against a suspected Taliban stronghold, the MoD says.
A 500-strong force moved into the area last weekend and met with little resistance.
Lieutenant Colonel Charlie Herbert said it had been a significant joint effort.
He is commander of the Royal Scots Borderers, 1st Battalion The Royal Regiment of Scotland, whose troops trained the Afghan soldiers.
He said: "For the first time we have seen in central Helmand a truly Afghan National Army-planned and ANA-led operation whereby they really are the supported command with ISAF working in a supporting role.
"This was an operation that was conceived by them, planned by them, executed by them with us very much in support."
An MoD statement said the operation which began in the early hours of Sunday 11 July was "the clearest sign yet that the work to prepare Afghan security forces is progressing at pace".
Concerns have been raised by governments with troops in Afghanistan over the performance of the Afghan National Army. Handing over control to a competent national army is key to the exit strategy of both Britain and the United States, the two countries with the largest number of troops in Afghanistan.
Operation Omid Do was led by Col Sheren Sha, Commander of the 3rd Kandak based at Camp Shorabak, close to the main British base in Helmand, Camp Bastion.
The MoD said the area was "thought to be dominated by the Taliban, but in the sweltering heat of the first morning there was no contact with the enemy."
As the Afghan forces moved further east into the area of Yakchal, one unit came under sporadic fire, the MoD said but support from ISAF Apache helicopters dispersed the insurgents.