Afghanistan aid spending boost expected to be announced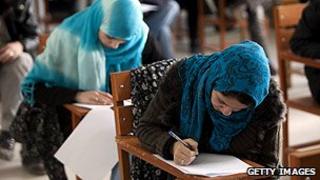 Spending on aid projects in Afghanistan is set to rise by 40% in a bid to speed up the withdrawal of troops from the country, it has emerged.
International Development Secretary Andrew Mitchell is expected to declare that securing progress in the country is his "number one priority".
The government has already committed 500 million pounds on projects there over the next five years.
Aid payments to many other countries will be reviewed.
International development is one of only two Whitehall budgets - along with health - set to be protected from far-reaching spending cuts being imposed by the Treasury.
'Well-spent aid'
The extra cash would be used to improve security, increase job opportunities, and provide food and medicine in Afghanistan.
Mr Mitchell is understood to have an interest in bolstering education, with an aim of getting six million children into school within two years and tens of thousands of Afghans into vocational training.
On Monday, he is expected to say that aid is an essential part of efforts to bring stability to Afghanistan.
"Nowhere is the case clearer of why well-spent aid overseas is in our national interest than in Afghanistan," he is likely to say.
"The UK is there to prevent the Afghan territory from again being used by al-Qaeda as a base from which to plan attacks on the UK and our allies.
"While the military bring much-needed security, peace will only be achieved by political progress backed by development. I am determined to back up the efforts of our armed forces as we work towards a withdrawal of combat troops."
BBC political correspondent Ben Wright said: "The international development budget will be spared from cuts but not from scrutiny, and the government's commitment to real-terms increases in aid doesn't mean the department's priorities will stay the same."
The Department for International Development is engaged in a major review of bi-lateral aid between Britain and the countries it assists, and it is likely some recipients will see their help reduced, he added.