UK Sunday papers: Release of Lockerbie bomber examined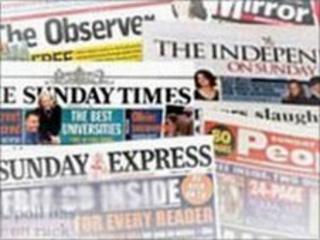 The circumstances surrounding the release of the Lockerbie bomber are scrutinised in several Sunday papers.
"An extremely murky business", is how the Independent on Sunday describes it, after it was claimed that oil giant BP allegedly played a role.
"Crises are like buses, they all turn up at the same time," says the Sunday Times.
Just as BP stops the Gulf oil leak, it "finds itself in the firing line again" over its "Libyan connection", it adds.
'Deeply worrying'
The Mail on Sunday leads with an investigation into the prices of prescription drugs, which it says have risen "almost 1,000% over two years".
The NHS is "signing blank cheques with our money", it claims.
The Observer, meanwhile, brands the new government's policy on public health "utterly inadequate".
It thinks that plans to reduce the state's role in tackling problems such as smoking and obesity are "deeply worrying and potentially dangerous".
'True hero'
The News of the World has an exclusive interview with Samantha Stobbart, ex-girlfriend and victim of Raoul Moat.
She tells the paper from her hospital bed: "I hope he rots in hell."
After some have branded Moat a 'legend and hero', the Sunday Mirror contrasts him with soldier Mark Ormond who lost both legs to a Taliban bomb.
It says Mark is going to run 3,500 miles across the US for charity, adding: "He is an inspriration, and yes, a true legend."
'Un-British'
The Sunday Telegraph says it can reveal that the UK will not be following France and Belgium's lead by seeking to ban the burka.
Immigration Minister Damian Green has reportedly told the paper that doing so would be "rather un-British".
Something else "un-British", according to the Sunday Express, will be parts of the Prince of Wales' poppy wreath in future, which are going to be made in China.
"Those who gave their lives are entitled to expect that British wreaths made of British materials are used to honour their memory," it says.