World Development Movement urges food market regulation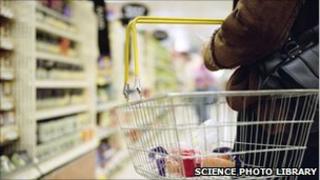 Greater regulation of the food market should be introduced by the government to stabilise food prices, according to an anti-poverty group.
A World Development Movement report said banks which caused the financial downturn created volatile food prices.
It said bankers poured money into commodities like wheat and maize after giving up on failed mortgages.
Banks have argued that food price rises are due to increased demand from China and the use of bio-fuels.
Basic food prices increased in 2008 amid the global financial downturn.
"Bankers are to blame for price rises in coffee, chocolate and bread," stated the report, which said that, in the UK, it was the poorest people who suffered the most.
The World Development Movement, a UK-based anti-poverty campaign group, says it seeks to "establish economic justice", which means "the right of poor communities to determine their own path out of poverty, and an end to harmful policies which put profit before people and the environment".
It wants the UK to lead the EU states in copying American legislation. A bill on Wall Street reforms, which cleared the Senate last week, includes tough new rules on the trading of food commodities.