'Vast majority' of Goldtrail travellers expected home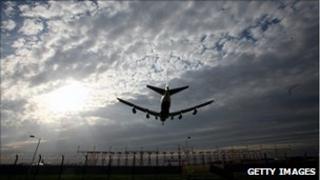 The "majority" of Goldtrail customers who were abroad when the firm collapsed should be back in the UK within hours, the Civil Aviation Authority has said.
Some 14,000 people were abroad when the Greece and Turkey holiday specialist went into administration on Friday.
The CAA said some Turkish hoteliers have been demanding cash payment for rooms which have already been paid for as part of Goldtrail packages.
Goldtrail customers can call the CAA on 0203 4410846 for information.
The CAA said that of the estimated 14,000 Goldtrail customers who were abroad when the firm collapsed, between 9,000 and 9,500 had been able to return to the UK at the weekend.
It estimates that a further 2,000 people had been due to go on their Goldtrail holidays over the past weekend.
David Clover, head of crisis management at CAA, told the BBC's Working Lunch programme that in addition "there are up to 100,000 people who have forward bookings from now up to Christmas".
He added: "It could be less than that, but that's the figure advised by the company so far."
'Aggressive hoteliers'
For those people still abroad and facing demands for money at a hotel - despite having paid for a package holiday with the collapsed company - the CAA urges them to call its helpline because an Atol scheme protects them against having to pay again.
A spokesman for the air regulator said: "Unfortunately they don't have schemes like this in Turkey so the hoteliers may not know about this.
"If this happens, ring us. We will contact the hotel and explain the situation and they shouldn't have to pay."
There have been reports of some hoteliers aggressively pursuing holidaymakers for payment.
Kenneth Ogilvy, from Ayrshire, told the BBC he was forced to hand over £280 by a hotel owner who refused to return his passport until he settled the bill.
The CAA spokesman added: "Everybody is coming home on the flights they were supposed to.
"We think by the close of play [on Monday] the vast majority of people will be home."
The CAA says all flights back to the UK from Turkey and Greece would operate as scheduled up to and including Monday. Information on flights from Tuesday will appear on its website later.
Those due to fly with the failed operator are being advised not to go to the airport and to contact their travel agent instead.
The CAA said holidaymakers could claim back money lost on bookings, and also any out-of-pocket expenses, but it would probably take several months for those claims to be processed.