Paper review: David Cameron's 'Big Society' dominates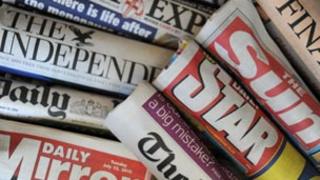 The papers focus on David Cameron's plans for a "Big Society" and his imminent talks with President Obama.
The Independent says Mr Cameron claims years of top-down government control have turned people into "passive recipients of state help".
The Daily Telegraph claims the four so-called pioneer communities, chosen to pilot the idea of running their own services, have all asked for help with projects.
It reports one group wants to buy a rural pub.
'Defend BP'
With Mr Cameron about to fly to Washington for talks with President Obama, plenty of papers offer advice.
The Daily Mail says "Mr Cameron must stand up for Britain" and "defend BP" over the Gulf oil spill.
The Times says there is "no need for explicit corporate patriotism" but calls for a deal that would "prevent BP from being driven to the brink".
And writing in the Guardian, Jackie Ashley ponders whether the "special relationship" is really so special.
Pension age rise
In other news, the Telegraph reports a call for Britain's motorways to be privatised, with road tolls introduced.
Conservative MP Tim Yeo thinks the change would help pay for better roads and new high-speed rail links, it says.
Meanwhile the Mail warns the state pension age could rise to 68 sooner than intended and be in place by 2038.
In an interview, Work and Pensions Secretary Iain Duncan Smith tells the paper the change "could be accelerated" and "it seems silly to wait".
Rent a friend
The Telegraph says new guidance for police in Sussex - fliers instructing them to tie their shoelaces and tuck shirts in - has not been well received.
One officer said it was an "insult" and "a complete waste of money", it says.
The Times reports on a new business about to be launched in the UK - a "Rent a Friend" website.
It says the service, which promotes platonic "friends" by the hour, has had success in the US, but the paper finds the idea "rather dispiriting".