UK newspaper review: Cameron-Obama 'love-in' assessed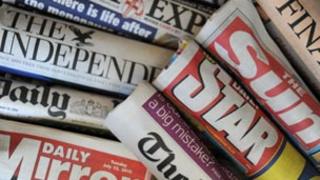 Barack Obama and David Cameron "swapped anecdotes" and "were on Christian name terms" at their first joint White House press conference on Tuesday, the Daily Mail says.
The "love-in", the paper thinks, had echoes of Mr Cameron's first press conference as prime minister with his Lib Dem deputy Nick Clegg.
The Daily Telegraph observes their very similar dress sense, even down to the same shade of blue in their ties.
The Sun concludes that the special relationship is "back on".
'Devastating critique'
Several papers are surprised by the testimony of the former head of MI5, Lady Eliza Manningham-Buller, at the Iraq Inquiry on Tuesday.
Writing in the Times, Sean O'Neill says her evidence was "extraordinary in its frankness".
The Independent thinks it "dramatically undermined" claims by Tony Blair that the toppling of Saddam Hussein made the UK safer from terrorism.
The Guardian agrees it was "a devastating critique" of the invasion.
'Bulldozer'
The Daily Mirror attacks Health Secretary Andrew Lansley's "grave mistake" over plans for elderly care.
It says he is considering a "death tax", despite rubbishing the idea when Labour mooted it. The Mirror declares him a "political contortionist".
The Financial Times turns its focus on the Education Secretary and his "bulldozer of a law" to allow schools to opt out of local council control.
"Michael Gove does not know when to slow down," it writes.
'Water everywhere'
The Daily Express has one of its favourite subjects on Wednesday's front page - the weather.
It says flash floods caused "chaos" on Tuesday in north-west England, "but despite the deluge the hosepipe ban remained firmly in place".
The Daily Telegraph has a picture of children playing in wetsuits in a flooded campsite in Cumbria.
"Water everywhere - except reservoirs", the paper writes, adding that more rain is predicted in the coming days.