In quotes: Timetable for UK withdrawal from Afghanistan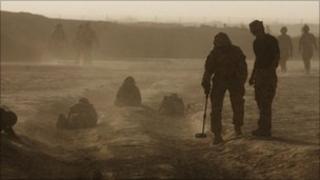 During his first trip to the US as Prime Minister, David Cameron has told the BBC that UK troops could begin to leave Afghanistan as early as next year.
President Barack Obama has also talked previously about starting the pull-out of American troops in July 2011.
Mr Cameron's comments were the latest in a series made by ministers and military figures about a possible timeline for British withdrawal.
NICK CLEGG 21 JULY 2010
Taking prime minister's questions for the first time, the deputy PM said: "The prime minister has been clear, we have been clear as a coalition government, that we do not wish to see British troops in a combat role in Afghanistan by 2015.
"This, of course, is consistent with the timetable for the Afghan forces assuming responsibility for security - as agreed in the Kabul conference yesterday - in 2014.
"No timetable can be chiselled in stone, but we are absolutely determined... that we must be out in a combat role by 2015."
Later, following accusations that the coalition government was sending out "mixed messages", Mr Cameron attempted to clarify his position, saying he wanted to send out a signal "that we won't be in Afghanistan forever".
"To give people some certainty, we have said, to be clear, that in 2015 there are not going to be combat troops, or large numbers of British troops, in Afghanistan," he told BBC News.
There will be "a relationship with Afghanistan and there may be some training still going on" but "not anything like there is now", he added, and it was "safe" to say 2015, because the coalition forces planned to hand over to Afghan forces by 2014, "based on the conditions on the ground".
DAVID CAMERON 20 JULY 2010
Asked whether people could expect British forces to follow the Americans in starting to leave next year, he said: "Yes, we can, but it should be based on the conditions on the ground.
"I don't want to raise expectations about that because that transition should be based on how well the security situation is progressing."
He added: "What I have said is, people in Britain should understand we're not going to be there in five years' time, in 2015, with combat troops or large numbers because I think it's important to give people an end date by which we won't be continuing in that way."
Asked if it was realistic to expect UK withdrawal by 2014, he said: "I think it is realistic. We're training the Afghan army month by month and it's actually on target."
LIAM FOX 19 JULY 2010
The defence secretary said: "It has always been our aim to be successful in the mission and the mission has always said that the Afghan national security forces would be able to deal with their own security by 2014.
"We recognise that there will be further work to do in terms of training and improving the quality of those forces beyond that, which is why we have said training forces may be available after that date. But we have made it very clear that that will not be combat forces."
WILLIAM HAGUE 1 JULY 2010
The foreign secretary said: "We're committed to the Afghans being able to conduct their own military operations… and their own security. And, you know, that takes time, but I would be very surprised if that took longer than 2014."
LIAM FOX 30 JUNE 2010
Speaking about the situation in Helmand province where UK troops are based, he said: "We've got to give the strategy time to work on the ground without constantly trying to change and question it… the likelihood is that it will be one of the last parts to transition over to Afghan charge.
"The mission in Helmand is one of the most difficult ones and I imagine one of the last places they will be able to transition from."
NICK HARVEY 26 JUNE 2010
Following Mr Cameron's comments about withdrawal by 2015, the armed forces minister said: "He's not committing to a firm timeline. It's actually exactly the same forecast that I was making during the course of the election.
"And I think it's just putting into the public mind a sense of an overall timeframe but it's not committing a particular calendar date for coming out.
"It will depend on the conditions on the ground. But I think he's trying to avoid the confusion in some people's mind that it might all be over in a matter of months."
DAVID CAMERON 24 JUNE 2010
Asked whether troops would be out by the time of the next general election in 2015, he told Sky News: "I want that to happen, make no mistake about it.
"We can't be there for another five years, having been there for nine years already. But one thing we should be clear about - Britain should have a long-term relationship with Afghanistan, including helping to train their troops and their civil society, long after the vast bulk of troops have gone home."
LIAM FOX 21 JUNE 2010
After the 300th UK death in Afghanistan was announced, he said: "I would love to be able to tell people exactly when we can bring our troops home, but the decision to do so has to be conditions-based rather than calendar-based."
WILLIAM HAGUE 22 MAY 2010
During his first visit to Afghanistan as foreign secretary, he said: "There isn't going to be an arbitrary or artificial timetable, it isn't going to be like that."
A day later, he told the BBC: "I don't think it's possible and I don't think it's wise to set a date.
"They should only be here for as long as we need to work towards that objective of Afghans being able to look after their own security.
"But I don't think setting a deadline helps anybody. I think so much of what we're doing in Afghanistan, setting targets for people then to jump through hoops towards, doesn't help them in their work."
LIAM FOX 22 MAY 2010
During his first visit to Afghanistan as defence secretary, he said: "I think it's impossible again to put an end date on it, but when you are looking at one of the poorest countries in the world, the help it will require in terms of reconstruction and development will be a very long period."
BOB AINSWORTH 30 MARCH 2010
The then defence secretary said: ''The process has got to be conditions-based.
''To try to set some artificial timetable will not do our troops any good and it will not do the Afghan government any good either.''
GENERAL SIR DAVID RICHARDS 27 FEBRUARY 2010
The head of the Army and incoming Chief of Defence Staff told the Daily Telegraph: "The combat role will start to decline in 2011, but we will remain militarily engaged in training and support roles for another five years, and we will remain in a support role for many years to come."
DAVID MILIBAND 17 SEPTEMBER 2009
The then foreign secretary said: "What we are doing in Afghanistan is incredibly important. For the next three to five years it will dominate our foreign policy.
"It will be the defining issue for the next government."
GENERAL SIR DAVID RICHARDS 8 AUGUST 2009
He told the Times: "I believe that the UK will be committed to Afghanistan in some manner - development, governance, security sector reform - for the next 30 to 40 years
"It is not just reconstruction; jobs and simple governance that works are key, and there has to be a strong reconciliation element to the latter."
And he added: "The end will be difficult to define; it won't be neat and clear-cut like the end of some old-fashioned inter-state war might have been."
SIR SHERARD COWPER-COLES 20 JUNE 2007
Asked about UK involvement in Afghanistan, the then British ambassador said: "We are going to win this, but it's going to take time. It's a marathon rather than a sprint.
"We should be thinking in terms of decades."