Newspaper review: Cameron and Clegg scrutinised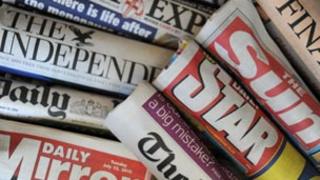 Lunch is the order of the day on the front of the Daily Telegraph.
David Cameron is shown biting into a hot dog with the Mayor of New York, Michael Bloomberg.
The Independent says Mr Cameron travelled to New York by train because he has to be seen to practise what he preaches in the age of austerity.
But it points out he still watched Nick Clegg's debut at prime minister's questions from the comfort of the British ambassador's ornate residence.
'Calamity Clegg'
The verdict on Nick Clegg's debut at the despatch box at prime minister's questions is far from complimentary.
The Times says he blundered into a minefield when he said Britain's invasion of Iraq in 2003 was illegal.
For the Sun and the Daily Mirror, he was "Calamity Clegg" and the Daily Mail says he plunged Westminster into chaos.
In the Guardian, a leading lawyer suggests such a public statement could increase the chances of charges against Britain in international courts.
Unkind comparisons
Nick Clegg's debut is a feast for Westminster's sketch writers.
The Daily Mirror says it was like Shakin' Stevens being asked to fill in for Elvis, and the Times writes him off as a glove puppet.
The Independent compares Mr Clegg to his predecessor as deputy prime minister, John Prescott.
The paper suggests the difference is that when the current man in the post sounds like he is speaking a foreign language, he probably is.
WWII slip
The Daily Mirror says it was not just Nick Clegg dropping clangers.
The prime minister was at it too, describing Britain as America's junior partner against the Nazis in 1940.
The Daily Mail says it is not just a travesty of the truth but an insult to the memory of the Britons who fought so heroically in the dark months of 1940.
Downing Street insisted David Cameron's comments were not intended to belittle the efforts of Britain's troops, reports the Daily Telegraph.