All-female crew 'first women to row round Britain'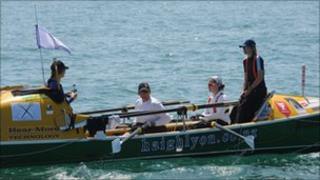 Four women have set a new record by becoming the first women to row non-stop around Britain, organisers say.
The Seagals, who have spent over seven weeks in their 24ft (7.3m) boat, Go Commando, completed their 2,010-mile (3,234km) journey at Tower Bridge, London.
They were racing a male team in the Virgin GB Row 2010, but the men dropped out after an anchor problem.
The Seagals said it was a "fantastic feeling" to complete their challenge.
Belinda Kirk, 35, from Bristol, Royal Navy nurse Laura Thomasson, 23, from Kent, IT support manager Beverley Ashton, 29, from Oxfordshire, and former US Marine Angela Madsen, 50, from Long Beach, California, crossed the finish line on Friday.
Skipper Ms Kirk said it had been "hard to keep going" but they were "proud" of their achievement.
Ms Madsen said it had been a "huge test of physical and mental endurance", while Ms Thomasson said she would spend the two-hour rowing shifts "dreaming of a long hot shower, crispy clean cotton sheets on a soft bed and a feast of fresh food".
The women have spent more than 51 days at sea, living in a boat that is so small only two people at a time can sleep in the cabins. The other two have to sit outside in all weathers.
'Over the moon'
During their journey, the women have been swamped by huge waves, survived storms, almost sunk and navigated some of the most treacherous tides on the planet.
At one point, Ms Madsen broke her finger when she was setting off a flare to warn off a ship that was on a collision course with Go Commando.
She carried on rowing by strapping her hand to her oar.
The men were forced to abandon the race after two weeks, when they had to get help lifting their anchor at Land's End, Cornwall, which broke the rules on assistance.
The women continued north, eventually rounding the coast of Scotland and rowing down the east coast of Scotland and England.
The race is sponsored by Virgin, and the daughter of company boss Sir Richard Branson, Holly, set off the race at Tower Bridge on 1 June.
Sir Richard said he was "over the moon" such "brave women" had won.
In the summer of 2005, Grenadier Guards officer Lt William de Laszlo, Lt Ben Jesty, Sgt James Bastin and civilian Will Turnage became the first people ever to row around Britain.
It took them 26 days, 21 hours and 14 minutes - a record that has stood for five years.