Stolen mobiles strategy agreed by phone recycling firms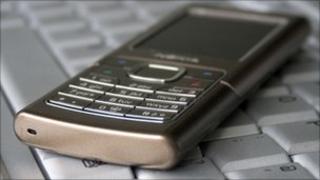 Recycling firms have agreed a code of practice to try to identify when stolen mobile phones are being offered for sale to them.
About 100,000 stolen handsets worth £4m are believed to be sold on each year.
As mobiles blocked from UK networks can still be used abroad, thieves sell stolen handsets to recycling firms which export many handsets.
Under the code, companies must check phones against a national database and report any stolen ones to police.
Recycling companies encourage people to send in their old, unwanted phones in exchange for money - on average about £40. The handsets are then resold elsewhere, often in developing countries.
High-value handsets
So far, more than 15 mobile phone recycling companies, representing 90% of the industry, have signed up to the new code, requiring them to check handsets against the National Mobile Phone Register.
The register is linked to three national databases - the industry database of blocked mobiles, the police database of mobiles reported stolen, and a voluntary public register of mobile ownership called Immobilise.
Once checked, if a phone is found to be stolen the company will refuse to buy it and report the matter - and the details of the would-be seller - to the police.
The managing director of recycling company Mazuma Mobile, which has agreed to the code, said some handsets, such as iPhones, could be bought for more than £200 by a recycling company.
"We wanted to make it as enticing as possible for people to sell phones to us, but it became obvious to us that high prices like that could encourage people to go out and steal handsets," Charlo Carabott told the BBC News website.
"We didn't want that to happen, so we've been involved in anti-theft measures from day one, but this is the first time an industry-wide standard has been put in place."
'Closing loophole'
Crime prevention minister James Brokenshire said that current efforts to improve the blocking of stolen handsets alongside the code would "make mobile phone theft an even less profitable crime".
"By joining forces with the police, the mobile phone industry is closing a multi-million pound loophole that has been exploited by criminals and the industry should be congratulated," he added.
Commander Simon Pountain, from the Association of Chief Police Officers, said use of the National Mobile Phone Register had already led to numerous arrests and the new code would allow for many more.
He added: "Significant offences such as robberies and burglaries have been solved through utilising this new system which has also led to arrests for murder. This is a great example of partnership working at its best for the benefit of the wider community."