NRG-1 'legal high' to become Class B drug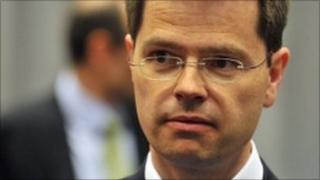 The substance NRG-1, a so-called legal high, is to be made a Class B drug on Friday, the Minister for Crime Prevention James Brokenshire has said.
Naphyrone, sold as NRG-1, will be banned under the Misuse of Drugs Act.
The Advisory Council for the Misuse of Drugs had recommended a ban, saying it could "cause real harm due to its potency and associated health effects".
The law will include generic compounds to prevent suppliers switching to new versions of the substance.
An immediate import ban on naphyrone and its related compounds was brought into place on 7 July.
Announcing the new legislation, Mr Brokenshire said the government was "deeply concerned" about the use of 'legal highs'.
"There is also clear evidence that just because a substance is advertised as a 'legal' high does not mean this is the case. Anyone buying a 'legal high' is putting their health at risk and could be committing a criminal offence," he said.
Class B drugs carry a maximum penalty of five years in prison for possession, and 14 years in prison for supply, with an unlimited fine.
The UK Border Agency said it had detained 3.5kg of the suspected substance since the ban came into force on 7 July.