Fire services purchasing body 'cost more than it saved'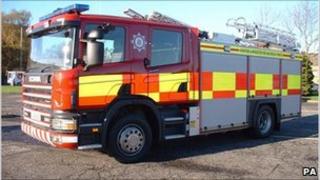 A central body launched by the Labour government to support the purchase of fire engines has cost nearly twice as much to set up and run as the savings it delivered, a report suggests.
The National Audit Office (NAO) said Firebuy had cost the taxpayer £16.8m since 2006, against claimed savings of £8.5m and an income of £1m.
It blamed lack of government "leadership, direction or oversight".
The NAO wants an assessment of whether Firebuy should continue to operate.
One alternative would be for Firebuy, which supported the purchase of a range of fire equipment, to transfer its work to another body.
Firebuy's progress was described in the report as being slow because it did not have the power to force fire and rescue services to use its national procurement contracts, relying instead on persuasion.
The NAO report said only five of the 14 framework contracts it set up were used by fire and rescue services to buy equipment.
And suppliers were prevented from offering lower prices through high-volume orders.
The report said the Department for Communities and Local Government should "quickly assess" whether to continue with a nationally-directed central procurement body.
It also said the approach to measuring savings achieved by Firebuy was "inadequate", adding that the information that the estimated savings were based on was "mostly unreliable".
The report said: "The department expected Firebuy to be self-financing by its third year of operation (2008-09) but it is still heavily reliant on grants from the department.
"Firebuy is expensive to run, with overheads between 5% and 10% higher than the industry norm.
"The department has not shown enough leadership, direction or oversight of Firebuy to ensure it achieved its original objectives, most of which were not monitored (only 29 of 66 targets were monitored) and many were not met."
Higher volume orders
Amyas Morse, head of the NAO, said the department "must change the way Firebuy operates", or it "should transfer its operations to another professional buying organisation".
Mr Morse said: "To deliver value for money for the taxpayer, public sector bodies should prevent the procurement of unnecessarily expensive bespoke equipment and collaborate successfully to build higher volume orders which reduce supplier prices."
A Communities and Local Government spokesman said: "We are studying the NAO report and will consider the findings on Firebuy carefully."