Newspaper review: Outrage at lifting of prison ban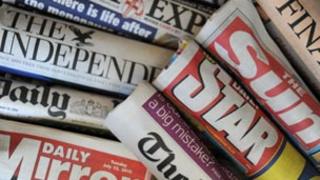 A photo of women prisoners at a fancy dress party inside Holloway jail led the last government to ban such events.
The lifting of that prohibition by the new justice minister leads the Sun, and others, to republish that image and revive their sense of outrage.
The Daily Telegraph sees the decision as a "return of the Monsters' Ball" - the women were dressed as Halloween characters in the original picture.
"Now you pay for prison parties," the Daily Mail tells its readers.
'Institutional failure'
Disquiet is displayed in response to the decision not to prosecute a police officer suspected of assaulting a newspaper seller who later died.
"This does not feel like justice," says the Times. The Daily Mirror complains of a "cover-up".
The Guardian sums up the official investigation as a story of "errors, delays, unanswered questions and... justice denied".
Like the Times, it sees evidence of an "institutional failure".
Not welcome
There is widespread approval for what the Daily Express calls the "last minute" scrapping of a Buckingham Palace garden party invitation to BNP leader Nick Griffin.
But it said the episode had allowed Mr Griffin "to adopt his favourite pose as a martyr for freedom of expression".
The Daily Mirror applauds the Queen. The Daily Star imagines her saying: "The BNP? Not in one's backyard."
The Independent has the monarch pronouncing: "Off with his invitation."
Last orders
Promises from ministers to stop the days of 24-hour drinking are hailed by the Daily Mail as "sense at last".
The result was that town and city centres became "no go areas for decent people", says the Daily Telegraph.
The Independent recalls the days when the cry of "last orders" would mean a surge to the bar, and scuffles outside.
A cartoon in the Financial Times shows a barman calling time and asking his customers: "Come on you lot, haven't you got homes to drink in?"