UK terror suspect Nadia Rockwood defended by family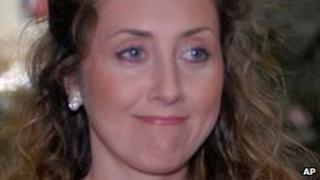 The parents of a pregnant British mother who faces terror charges in the US have protested her innocence.
Nadia Rockwood, 36, admitted lying to FBI agents about the existence of a list of possible targets when she appeared in an Alaskan court with her American husband Paul, 35.
Her father, Samuel Hawes, told the Daily Mail his daughter was "not in any way a terrorist".
The pair were also charged with making false statements about terrorism.
This relates to statements made during interviews in May.
The Briton's parents said their daughter, also known as Bilal, converted to Islam after 9/11 to try to control a serious drink problem.
Mr Hawes, a 67-year-old engineer, said: "I'm against any form of terrorism, especially in the name of religion."
He told the newspaper: "I know my daughter. We are very close. She is not in any way a terrorist. Paul has strong views but he loves America.
"He is a bit of a prat but I can't believe he would have got himself involved in anything like this."
And his wife, Piri, a 66-year-old psychotherapist, said her daughter - who is five months pregnant and has a four-year-old son - is struggling to cope while in custody.
US prosecutors said the Briton's husband began studying the teachings of US-born cleric Anwar al-Awlaki, who has professed a hatred for the US and supported acts of terrorism, about a decade ago when the couple lived in Virginia.
Authorities said that, while living in Alaska, Mr Rockwood began researching explosive components, construction of remote triggering devices, such as mobile phones, and construction of bombs to be delivered by common mail carriers.
He has been accused of discussing the use of mail bombs and the possibility of killing targets by gunshot to the head last year.
Please deal
And he allegedly gave his wife the list of around 15 targets in April before she took it to Anchorage, where it was picked up by the FBI.
The contents of the alleged list were not made public.
In court Mrs Rockwood admitted that she was aware her husband wanted to seek revenge and had known the purpose of the list.
However, when questioned, she denied delivering the list and claimed it was a book or letter.
When interviewed by the the FBI, Mr Rockwood denied having had a list, insisted he did not create it and rejected its alleged purpose.
Under a plea deal, Mr Rockwood would serve eight years in prison and his wife would get five years' probation in the UK.
US District Judge Ralph Beistline did not immediately approve the deal and sentencing has been postponed.
Mr Rockwood, who worked as a meteorological technician for the US national weather service, is being held in custody while his wife is to be released to take care of their son until her sentencing.