Newspaper review: Concern over Jon Venables' sentence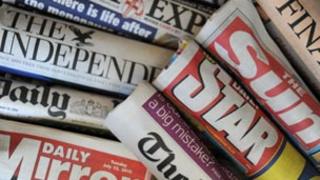 The case of Jon Venables has made the front page in a number of Saturday newspapers after he was jailed for two years for downloading and distributing indecent images of children.
The Sun says the sentence against Venables - who murdered two-year-old James Bulger in 1993 - was insufficient. It interviewed James' mother, Denise Fergus, who said the sentence was "simply not enough".
Venables will now get another another new identity, says the Daily Telegraph, which it estimates will cost the taxpayer £250,000.
It warns that the legal system will find itself in the dock if he offends again.
'Too timid'
The results of the latest stress tests on European banks have got a cautious response from the Financial Times.
It says the tests, which are designed to restore confidence in the banking system, and saw seven institutions fail, were "too timid".
The Times says the latest strong growth figures for the UK economy have eased fears of a double-dip recession.
Yet it also warns that the numbers - which were better than expected - should be treated with scepticism.
Economic boost
The upbeat economic growth figures have vindicated the decision of the former Labour government to spend the UK out of recession, says the Daily Mirror.
It adds that Gordon Brown can enjoy a wry smile at the figures, which came too late to prevent defeat in the general election.
However, the Daily Express points out that most of the economic growth came from the private sector.
It adds that the UK must continue to nurture business growth rather than falling back on state spending.
'Water bandits'
Thieves are stealing water from the mains supply in Suffolk, reports the Daily Telegraph.
It says the "water bandits" are causing taps to run dry, forcing residents in the village of Ingham to wash with bottled water.
Villagers in Draughton, North Yorkshire, are perhaps the most honest in the UK, says the Daily Mail.
There is no shop in the village, but they have started to use an "honesty box" in an old phone booth that is stocked with groceries. And in the two weeks since the scheme began, nothing has been stolen.