Senator's letter to Alex Salmond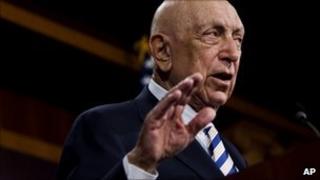 US senator Frank Lautenberg has asked the Scottish government to reconsider its decision not to send officials to a hearing into the release of the Lockerbie bomber. Here is the letter in full:
Dear First Minister Salmond:
Shortly after the December 21, 1988 terrorist attack on Pan Am 103, I visited Lockerbie as a commissioner appointed by former President George H. W. Bush to investigate the Pan Am Flight 103 bombing.
One thing I took away from my journey was the determination of the Scottish Authorities to literally leave no stone unturned as they physically reached through the foliage and grassy areas searching for the tiniest piece of evidence to find the killers of the 259 people on board and 11 Lockerbie residents.
I also saw a warehouse filled with Christmas gifts for family and the kinds of artifacts that a college student might bring home from a long trip. The devotion of Scotland to find the perpertrators was clear, and all of us from the United States were certain that their arduous task would provide results.
Among the 270 lost lives, 38 came from my home state of New Jersey. As you would understand, their families endured immeasurable pain and suffering. When the perpertrator, Adbelbaset Ali Mohmed Al Megrahi, was convicted and imprisoned in Scotland there was a small degree of comfort to know that a price would be paid for his unconscionable deed.
Unfortunately, the events of last summer, the elevation of this killer to heroic status upon his return to Libya, and the allegations that a commercial transaction played a role in his release caused additional grief for the families that lost so much. These lingering questions about improprieties in Mr. Megrahi's release have only amplified the grief these families have experienced.
That is why I am pleading for direct representation from the Scottish goverment at our U.S. Senate hearing next week to help us seek answers. Your cooperation in sending a knowledgeable person will help establish a credible record of what transpired.
'Without compassion'
We are also witnessing the U.K Government claiming the release was entirely the decision of the Scottish government and vice versa. Each decision made regarding Mr. Megrahi - including the Prisoner Transfer Agreement, "Compassionate Release," and others - was a factor in his ultimate release and we are entitled to the truth no matter how painful.
Those who commit vicious acts of terrorism have to know that they will be punished without compassion. Your government's participation in our hearing will help send that message.
Thank you for considering this request.
Sincerely,
Frank Lautenberg