Unite is latest union to give backing to Ed Miliband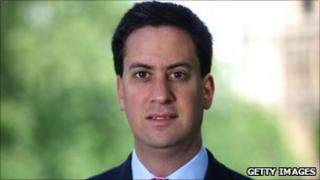 Ed Miliband has been given the support of the country's biggest trade union in his bid to become Labour party leader.
The political committee of Unite has voted to back Mr Miliband, which follows recent support for him from Unison and the GMB unions.
The move means the country's biggest three trade unions are backing the former climate change secretary in the election to succeed Gordon Brown.
The decision is expected to be endorsed by Unite's executive on Monday.
It will then be recommended to the union's one million members.
Mr Miliband's brother David has won the support of two unions - Community and Usdaw, while shadow education secretary Ed Balls is being backed by the Communication Workers Union.
Diane Abbott is currently being supported by one union, the Transport Salaried Staff Association. The fifth candidate in the election is Andy Burnham.
Supporting nominations from unions, MPs and constituency Labour parties will close next Monday.
Voting will begin in September, with the result due to be announced at the start of Labour's annual conference in Manchester on 25 September.