Ashtiani death sentence protesters hold London rally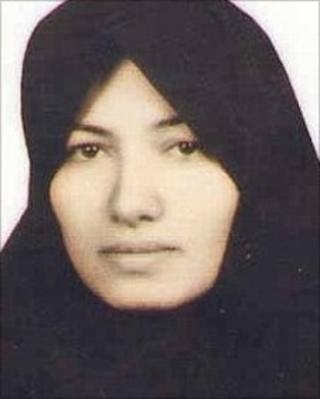 A rally has been held in London to protest over a woman sentenced to death for adultery in Iran.
Sakineh Mohammadi Ashtiani was originally told she would be killed by stoning, but the penalty was put on hold following international anger.
Human rights campaigners gathered in Trafalgar Square, London, to protest against "medievalism and barbarity".
They called on the international community to "make the world stand still" over Ashtiani's treatment.
The death sentence against the 43-year-old mother of two remains in place.
Ashtiani has already received 99 lashes for what Iranian officials called an illicit relationship outside marriage.
Then, after the trial of a man charged with murdering her husband, Ashtiani was found guilty of adultery - a crime punishable by death.
Pressure on Tehran
Demonstrators in Trafalgar Square waved placards reading: "Turn all stones towards the Islamic regime of Iran".
Others at the event on Saturday held banners calling for the abolition of the death penalty, while members of the public signed a petition against the punishment.
Sobia Naqsh, a museum curator from Karachi, Pakistan, brought her two children to the protest.
"It does not matter if she is guilty or not, I do not believe in stoning," the 38-year-old said.
Campaigners said similar demonstrations were being held in more than 30 countries to put pressure on Iran in the hope of securing the release of Ashtiani, who has been in jail in the north-western city of Tabriz since 2005.
Iran's judiciary has been told to observe a moratorium on stoning, but critics say the practice continues.
Amnesty International says at least six people have been stoned to death in Iran since 2006. Another 15 people were spared, the human rights group says.