Newspaper review: Tributes to Alex 'Hurricane' Higgins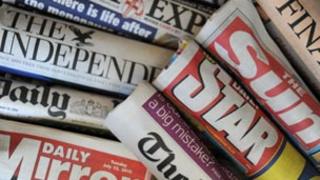 The papers carry tributes to the former snooker star Alex "Hurricane" Higgins, who has died at the age of 61.
The Sunday Mirror says "he played the game like he lived his life - right on the edge" while the Sunday Telegraph says he "transformed" the sport.
Player John Virgo tells the Daily Star Sunday Higgins was a "genius".
Under the headline "Cue were the greatest", former rival Steve Davis tells the News of the World he will be "sorely missed".
'Unofficial' opposition
There's support in the papers for Tory MP David Davis after he was apparently overheard making less than flattering remarks about the coalition.
The Sunday Telegraph says the former front-bencher should not be subjected to ridicule as he represents a "substantial section" of the party.
The People suggests Mr Davis has emerged as an "unofficial" opposition.
It says Labour needs to "get its act together" and has a interview with the man it sees as leader - Ed Miliband.
Cambodia trial
Prisons Minister Crispin Blunt is back in the news days after being forced by to withdraw plans to overturn a ban on comedy workshops and parties in jails.
The Observer reports criminals will get the chance to cut their sentences by apologising to victims face-to-face.
The Independent on Sunday leads with a report from Cambodia on the trial of a man said to have run a notorious prison in Phnom Penh for the Khmer Rouge.
It expects him to receive a lengthy sentence for crimes against humanity.
Cameras axed?
The Mail on Sunday devotes almost two pages to explain how "Britain's most profitable traffic camera" raked in almost £2m in just three months.
The camera near Victoria Station in London apparently captures "unwitting" drivers who stray into a street filled with temporary bus and taxi lanes.
Meanwhile, the Sunday Times says thousands of cameras in England and Wales are to be axed amid funding cuts.
Oxfordshire is said to be the first county likely to abandon the devices.