Jon Venables' voice made my stomach turn, says Fergus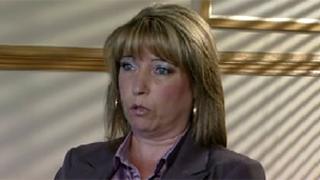 Denise Fergus, mother of James Bulger, says hearing the voice of her son's killer during his recent court appearance made her "stomach turn".
Jon Venables, now 27, was 10 when he and friend Robert Thompson murdered the toddler in Bootle, Merseyside, in 1993.
Venables was jailed last week for possessing indecent images of children.
Ms Fergus told ITV regional news programme Granada Reports she had wanted to see his face. Only the judge had access to the TV link.
Guilty pleas
She said it was "so wrong" that she was not allowed to see him, and that "James has been let down again".
Ms Fergus also said hearing Venables' voice had a physical effect on her.
"I felt like I was in the same room as him but I couldn't see him. He did only speak for four times, and that was to say his name was Jon Venables, and the three guilty pleas that he said, but listening to his voice made my stomach turn."
Following his latest conviction, Venables was jailed for two years, banned from using a computer or the internet for five years and will be placed on the sex offenders register for 10 years upon any eventual release.
He pleaded guilty to three offences under the 1978 Protection of Children Act. The first involved downloading 57 indecent pictures of children between February 2009 and February 2010.
The second involved distributing three indecent photographs of children in February 2010, while a third involved distributing 42 images in February 2008.
Ms Fergus said hearing details of the case was "a big shock".
Football match
She said: "I didn't know exactly what he'd done. To sit in that court and listen to it for the first time, it was just gut-wrenching."
During the court case it emerged that Venables was living in Cheshire when the images were found on his computer by a probation officer he had invited to his home.
"It's not far from me at all," she said. "I could have walked past him. I go shopping everywhere now, all areas, because I think 'why should I hide?'
"I've got nothing to hide. So I do venture out. I could have even stood next to him in a queue and been speaking to him. I don't know. This is why it's important for me to know what they look like."
Ms Fergus is also upset that it emerged Venables had been to see a match at Everton's football ground.
"Everton is just a stone's throw away from my house, and there's another breaking of his parole because he's not allowed to enter Merseyside."
Ms Fergus said she was told that she would be informed if either Venables or Thompson would be entering the Liverpool area, but that she had no idea Venables had been to see the football match near her home.
'Left to roam'
She also said the fact that Venables had been trawling the internet for indecent images of children "shows you how sick he is".
She added: "He hasn't been rehabilitated. All that money that was spent on him, and everyone was saying 'oh, he's been rehabilitated'.
"This proves that he hasn't been rehabilitated. He also hasn't been watched. He's been left to roam and do his own thing."
Venables has said in a statement that he thinks of James Bulger's death every day and "how different life might have been for those affected".
But Ms Fergus said that was "another lie".
She said: "Why come out and say that after all these years? He should have said that in the beginning. Maybe then I might have believed him, but it's been too long now.
"He's a liar, he's a murderer and he's a paedophile."