Newspaper review: Focus on BP chief's departure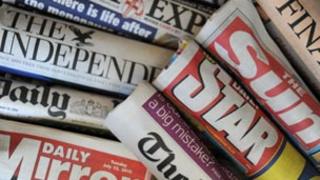 The expected departure of BP chief Tony Hayward is widely reported.
According to the Times, he will collect a pay and pension package worth £11.8m.
The Independent says Mr Hayward bowed to the inevitable after months of intense criticism for his disastrous handling of the Gulf oil spill.
For the Guardian, the move is seen by BP as the only way to rebuild its shattered reputation in the US while the Daily Mail says it hopes senators will now tone down their rhetoric.
Afghanistan files
The Guardian devotes 14 pages to secret US military files that it says "provides a devastating portrait of the failing war in Afghanistan".
The documents were leaked to the paper, as well as the New York Times and Germany weekly Der Spiegel.
The Daily Express says UK cancer patients are being denied drugs routinely offered in other countries.
A report commissioned by the Department of Health will highlight the problem, it reports.
Iraq fortunes
The Daily Telegraph is among the papers to look ahead to David Cameron's visit to India on Tuesday.
It notes he will be joined by six government ministers, dozens of businessmen and a group of sports stars and other cultural figures.
Jeffrey Archer writes in the Times that Britons should head to Iraq to make their fortunes.
Lord Archer says there are plenty of Russians, French, Germans, Swedes, Chinese, Turks and Lebanese there.
Dead ringer
Many papers carry photographs of the new co-host of BBC's One Show alongside her predecessor Christine Bleakley.
The Sun reports Alex Jones "could be her double" but comes with a "much cheaper price tag - £100,000 a year".
The Daily Mirror reckons viewers will "no doubt do a double take" when Jones starts her job in August.
The Daily Mail says: "The BBC may have lost Christine Bleakley to ITV, but they have managed to find a dead ringer to take her place."